Description
Forex Fury V4 EA
Forex Fury is the most effective EA on the market. This software is the life's work of our development team and it provides traders of all skill levels an investment opportunity that is both safe and aggressive simultaneously. We know what it takes to succeed and we will do whatever it takes to help you grow your accounts.
The Forex Fury robot provides traders with real-time automated results that can be trusted as we boast a 93% winning track record with verified Myfxbook acounts and we expect to get better with each and every passing day.
With full length installation guides, an ultra responsive support team, super profitable settings and free installation traders of all skill levels can benefit from the Forex Fury software immediately.
We care about our clients. We do everything in our power to ensure our trading clientele is happy. If you email us you will get a fast and thoughtful response (email us, test us!) that sets us apart from our competition.
Forex Fury V4 USDJPY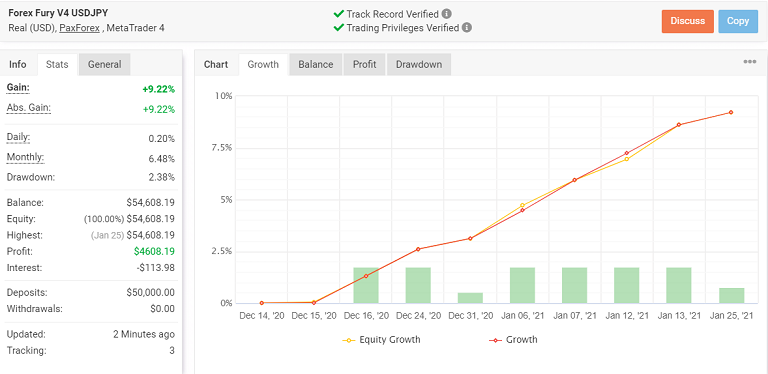 https://www.myfxbook.com/members/forexfuryreal/forex-fury-v4-usdjpy/7639858
You can find Forex Fury's verified trading results listed on the third-party website Myfxbook linked here. These metrics include its trading results for various currency pairs in demo or live accounts, as well as for USD/JPY in a demo account using the Forex Fury V4.1 software. You can view the leverage ratio used and the maximum drawdown, in addition to the profits earned, expressed as the percent gain and in pips. The currently available and upgradable versions of Forex Fury include 3.1, 4.1 and 5.1 versions, although the 5.1 version of the Forex Fury software is still in beta testing.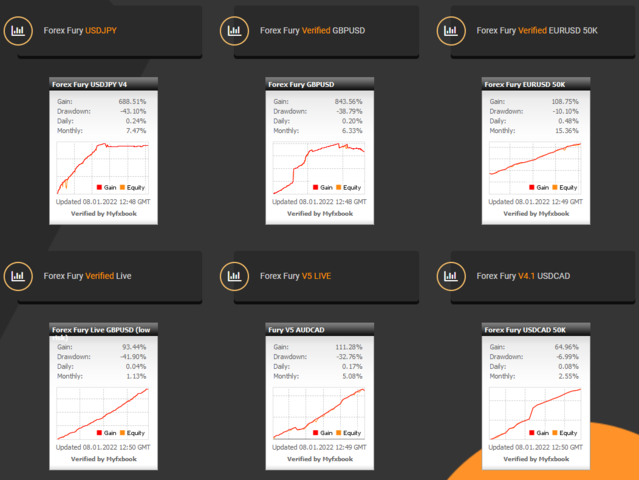 The Forex Fury EA does not come with an unconditional money-back guarantee. You instead have to actually use the software to qualify for a refund within 60 days from purchase if you remain dissatisfied with the product. These requirements include providing 30 days of trading results in a live or demo account using 1 currency pair per account. You must also have the EA trade the designated amount of time each day.
Regarding the security of your deposited funds, Forex Fury is not a broker and only accepts money as payment for its EA licenses and the use of its proprietary trading algorithm and settings. Accordingly, no major security issues should exist when using the trading robot that might compromise your funds, other than the usual market risk.
To find a suitable online broker to use Forex Fury with, you first need to make sure the broker supports MT4/5, and then you can check its reputation and regulation before opening an account. Many offshore forex brokers operate without significant oversight, so your funds could be at risk if you intend to trade through a poorly regulated broker.
The Forex Fury forex trading robot can be purchased for $229.99 for the Gold membership and $439.99 for the Diamond membership. The main difference between the two Forex Fury licenses is that you receive only one account license with the Gold membership, while you receive two licenses with the Diamond membership.
You can use the software in demo accounts without ever signing up for a live brokerage account. Yet, in order to use the Forex Fury EA in a live account, you must deposit with a broker. Starting with as little as $100 on a micro account. So you'll need to deposit with a broker to use the Forex Fury robot in each live account where it executes trades.
The user benefits of Forex Fury include free updates on any of its versions, as well as unlimited demo accounts so you can test multiple strategies and gauge how profitably the robot trades.
Forex Fury V4 Stable is the latest version of the EA, and it has been optimized for current market conditions. In addition to market optimizations, the latest version of the software includes:
Trade direction: This feature allows you to select longs only, shorts only, or both long and short positions.
Dynamic retrace: The dynamic retrace feature lets you disable your stop loss and use a retrace instead.
Martingale: This feature activates the Martingale strategy, which uses a lot multiplier and max steps to determine the larger size of each new trade using Martingale principles. This feature was not used in any of the verified Myfxbook Forex Fury accounts, but it may be applied in the near future. Many expert traders consider the Martingale strategy to be a high-risk trading method that can blow out an account since both losses and gains are magnified with each iteration. So clients have a choice whether or not they want to use this feature, or any other feature.
New panel: A new panel is added to your interface and can be displayed in any of the four corners of your chart at any time.