Description
Non-redrawn indicator buy and sell signals. It is a three-in-one system that can function as a manual indicator, a semi-robot (partially automated signal) and a fully automated indicator.
The indicators are professional and precise, utilizing a highly sophisticated system based on the most traditional and modern indicators and filters.
Provides up-to-date signals for the major currency pairs in the M30 time frame. The accuracy rate is 80-90%.
A rising star among modern trading tools, as it has exclusive features related to performance and interface, while being 100% honest.
Non-redrawn indicator system can be used as a manually operated indicator. In this case, it creates signals and provides alerts. You can follow these signals as you wish.
It is designed to be simple and pleasant, and it has a semi-automatic function. If you tell the auto-follow signal, it will create an appropriate order, then modify it using stop loss and profit, and then follow it until it closes. This is a manual trader's dream. You still control the market, but now the process is automated. In addition, fully automated trading is possible.
Forex indicator systems can provide you with trading signals in the form they appear, or include your own analysis of the charts to extract further signals.
Non-redrawing indicator features
You can configure the Hybrid Trading Indicator System so that it sends you notifications via cell phone notifications, emails and pop-ups on your platform. This is useful because it means you don't need to look at the charts for hours waiting for signals to appear, and you can also monitor multiple charts at the same time.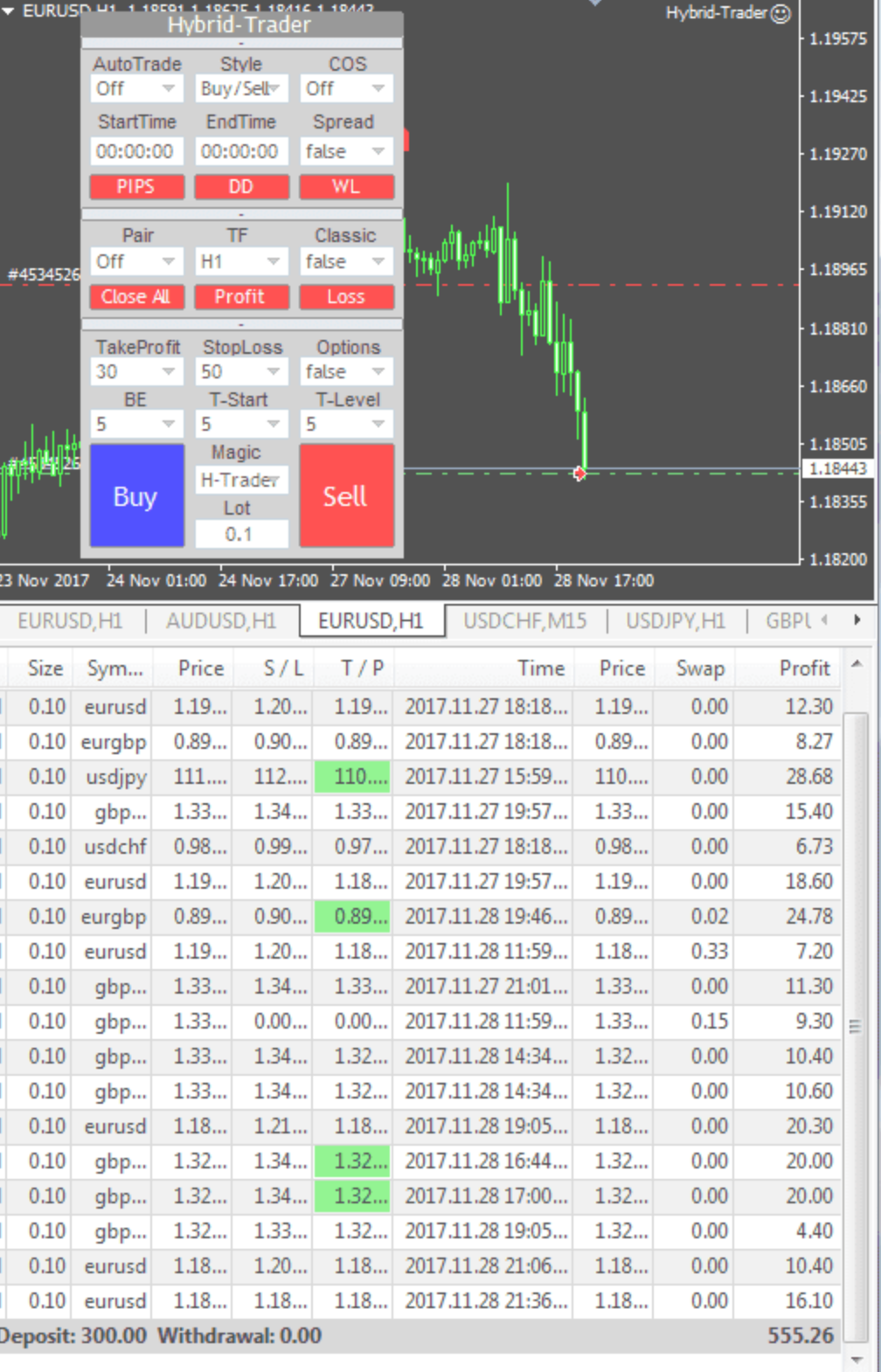 What do I need to start trading? What are the main requirements?
The system is designed for all currency pairs, M15-H4 time frames.
What is the minimum deposit required to use the system for secure trading?
100 USD. It applies to 0.01 lot size. Always be careful with a lot. Of course, you can use a smaller amount, but the risk will be higher.
Can you guarantee that I will make money with your product?
No one can give such a guarantee. However, we are quite sure that you will be surprised to find that, on average, the absolute number of successful (profitable) trades is between 75-85%. Personal updates allow you to get the system as expected.
How do I get the software?
Download it immediately. If you do not receive it – we will send it by e-mail.
Can I change the Stop Loss and Take Profit settings and other settings?
Yes, you have the option to do so. The settings are turned on for you. More importantly, each TF needs its own SL/TP level. Set it to your own style.
Can I open/close orders manually?
Yes, of course. You can turn it on/off. It does not affect trading. You can combine both manual and automatic trading.