Description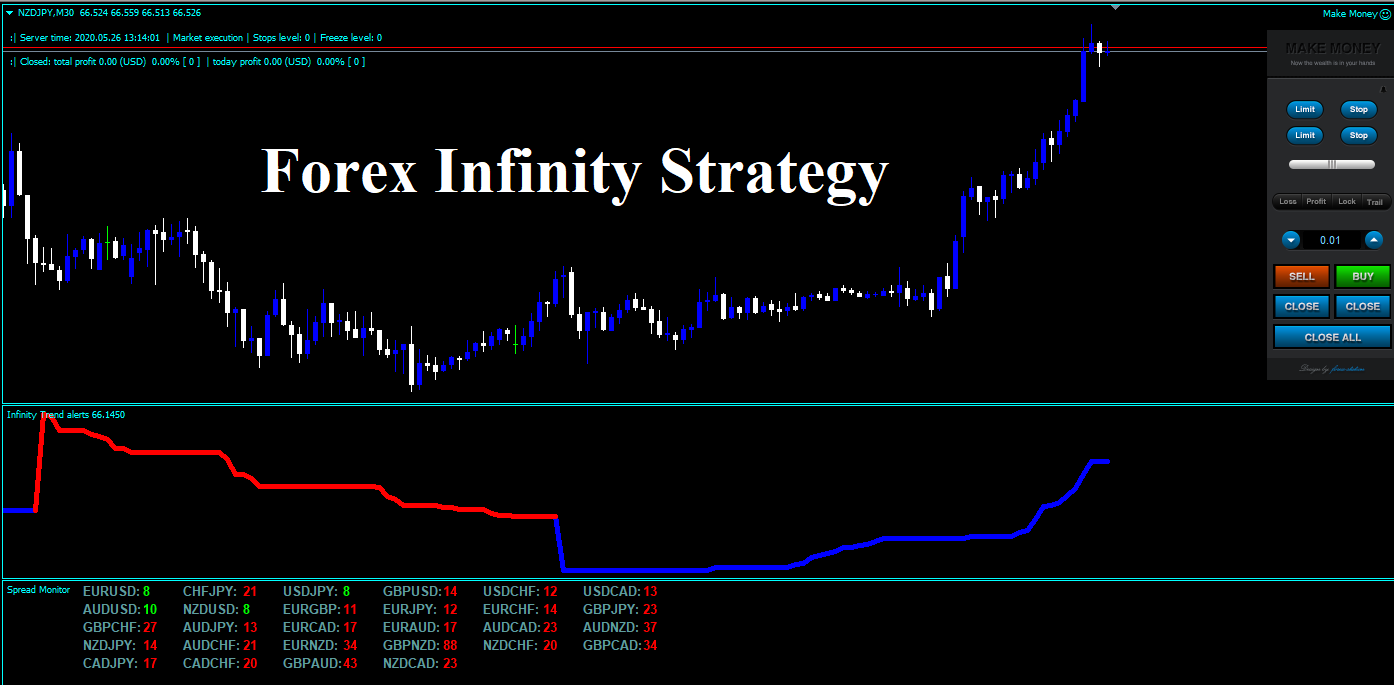 Have you ever wished you could identify dominant trends across multiple time frames and join them with near-perfect timing?
Well, your dream has just become a reality.
Here's why.
We have successfully developed the first indicator on the market that provides you with an immediate and precise signal when long-term, medium-term and short-term trends are in sync.
We call it the "Infinite Trend Alert" indicator.
It is probably the most accurate MT4 indicator for trend trading.
First, I will briefly describe what the indicator is all about. Then I will explain in more detail how it works.
The Infinite Trend Alert indicator gives you an immediate signal (you will receive visual, audio, push and email alerts) when the long-term, medium-term and short-term trends are in sync.
When all trends are aligned, this means that prices are likely to move dramatically in that particular direction.
Let me show you an example of an infinite trend alert indicator that works in a lower time frame.
EUR/CHF M1 Trading Chart
It's easy to install and run on your MT4, but it's also easy to remove if needed. While our Trend Indicator is a fairly comprehensive tool, it is still very lightweight as it is programmed from the ground up to be very fast and responsive.
Not only can it be run on multiple charts, but it can also be run on each chart with different settings.
The end result is that you can easily run Forex Infinity Strategy on multiple charts without any degradation of MetaTrader performance.
The beauty of the Forex Infinity Strategy is that it is easy to use and versatile. Many novice traders overcomplicate their trading charts, sometimes looking at more than 5 indicators at the same time. In these types of setups, some indicators can give conflicting signals and the user may feel mentally exhausted after each trading session.
Let's check chart examples for day trading:
EUR/USD M15 Trading Chart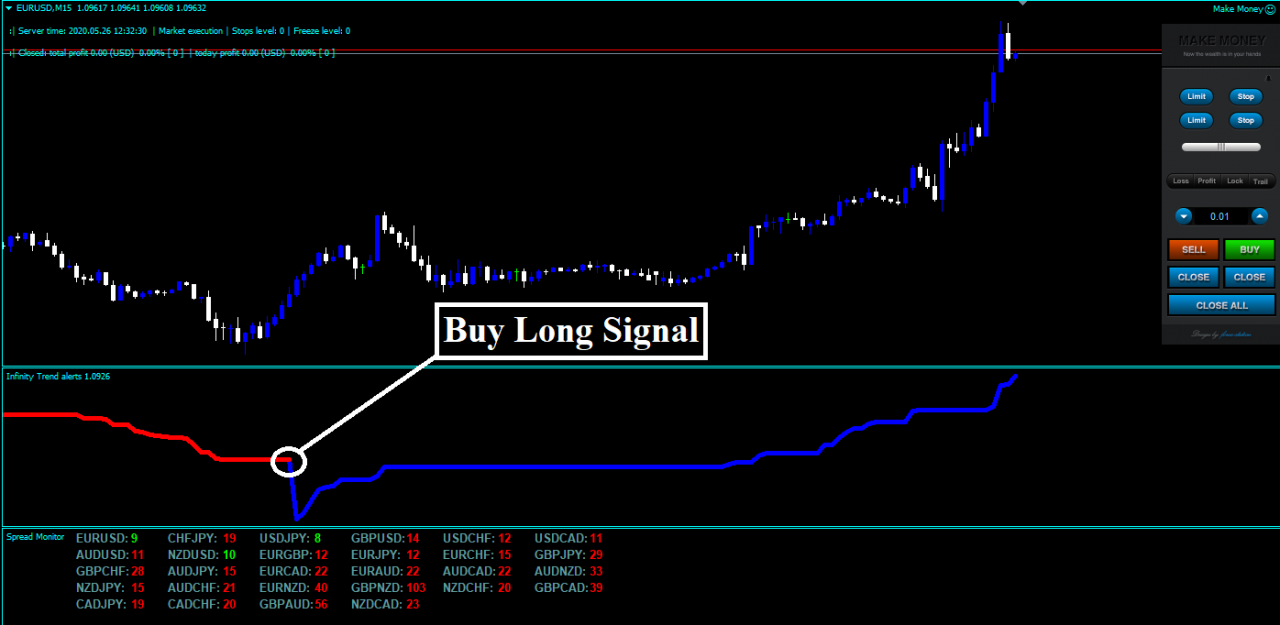 USD/CHF M30 Trading Chart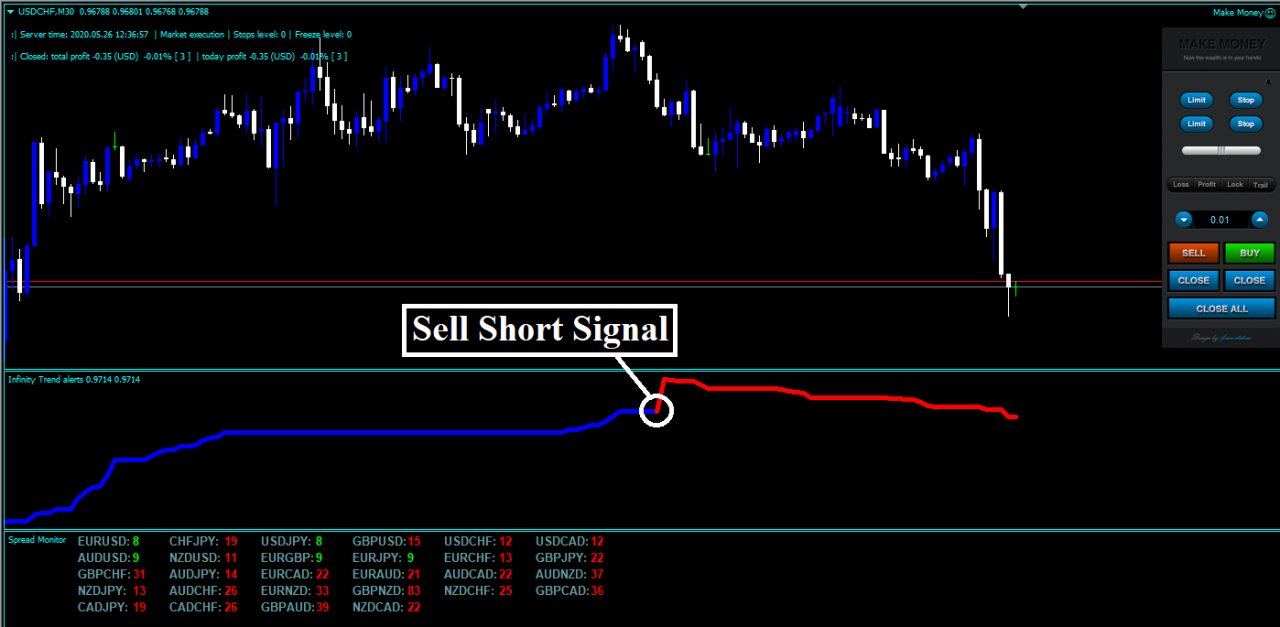 AUD/USD H1 Trading Chart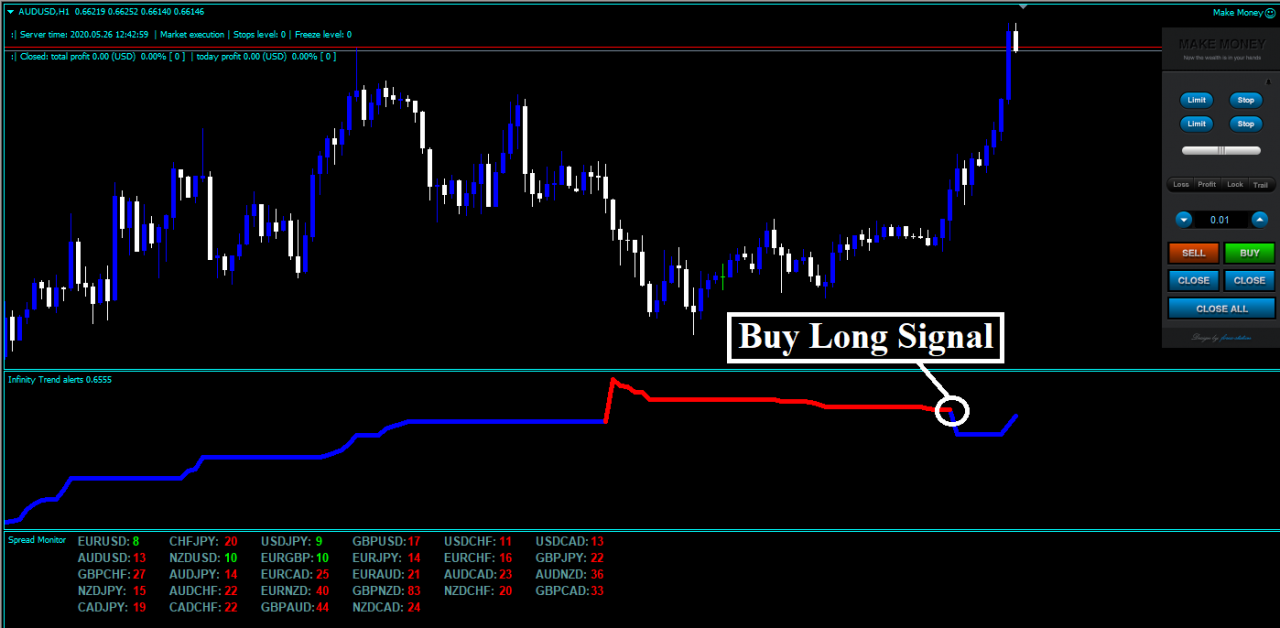 EUR/USD H1 Trading Chart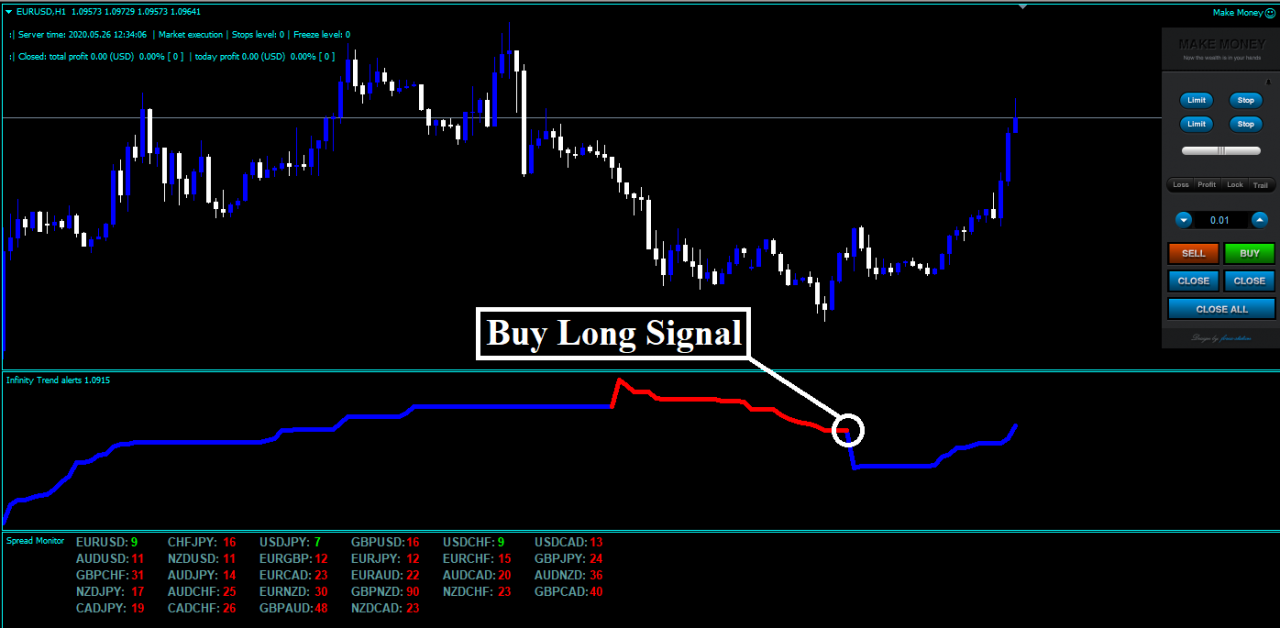 GBP/USD H1 Trading Chart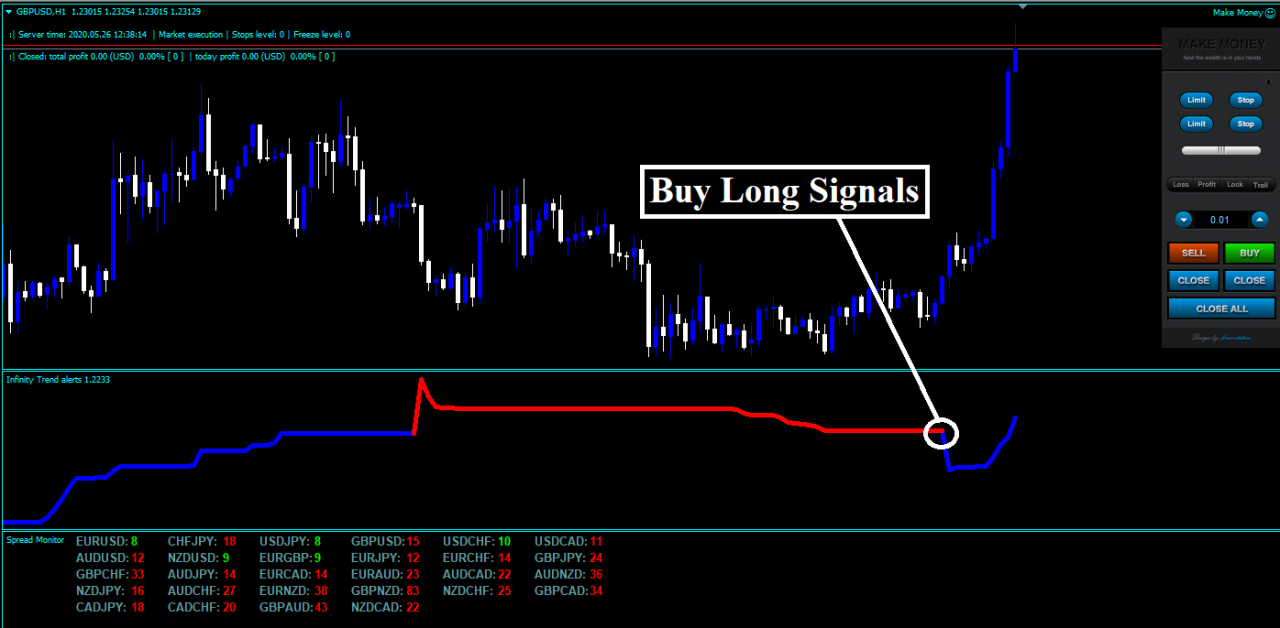 Free trading signals without subscription fees
The Forex Infinity strategy will generate trading signals based on predefined settings. UP and DOWN signals will notify you of each new trade setting defined in the indicator settings.
In addition to the large arrows plotted on the chart, the signals can be delivered to your mobile device (e.g. cell phone or tablet) as small pop-up windows with audible alerts (as shown in the picture), emails or push notifications.
Once the Trend Indicator is installed and running, you will be able to receive continuous free trade alerts without paying any monthly fees.
You will no longer have to stare at your monitor screen for long periods of time waiting for the right settings.
Upward/downward signals are sent directly to your cell phone or e-mail
In addition to arrows on the charts and pop-up windows in MetaTrader, our custom MT4 trend indicators will send email alerts and push notifications to your cell phone.
Email alerts and other notifications can be turned on or off in the indicator settings.
Trading signals can also be sent to your phone via push notifications. In order for this to work, you need to have the Meta Trader 4 application installed on your phone.
Push notifications are sent almost instantly, so they are much faster than emails.
In order to receive trading signals via your e-mail address or cell phone, your MetaTrader 4 needs to be configured with your server details, e-mail account, phone number, and it needs to be running.
AUD/JPY H4 Trading Chart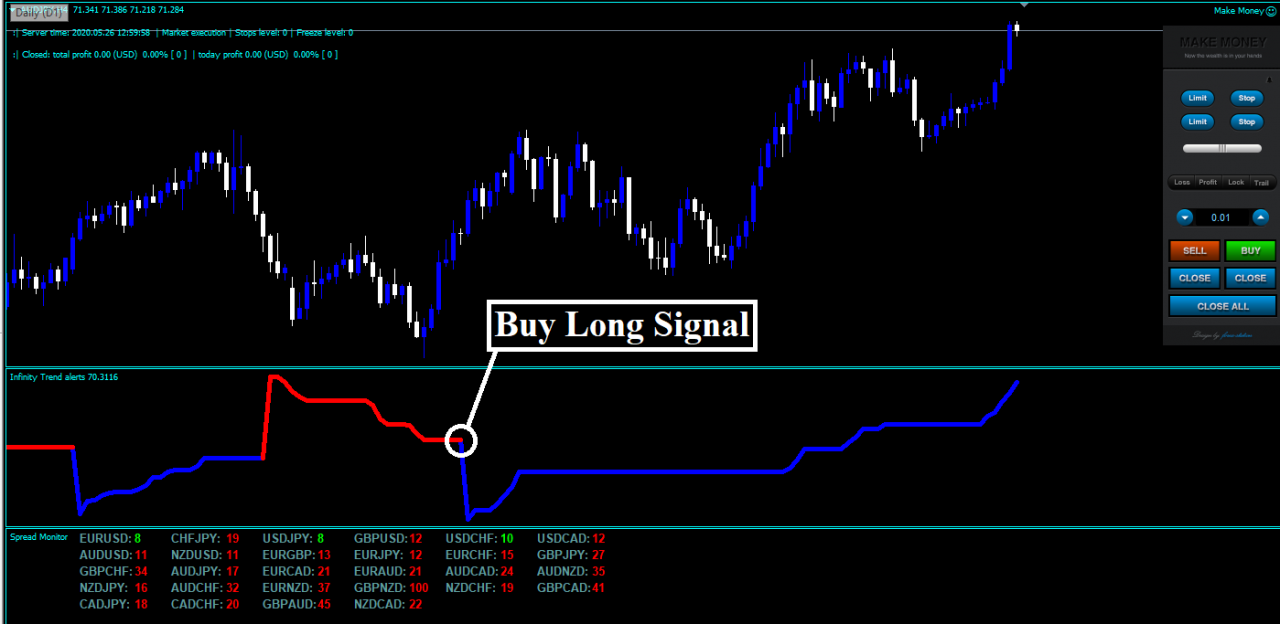 USD/JPY H4 Trading Chart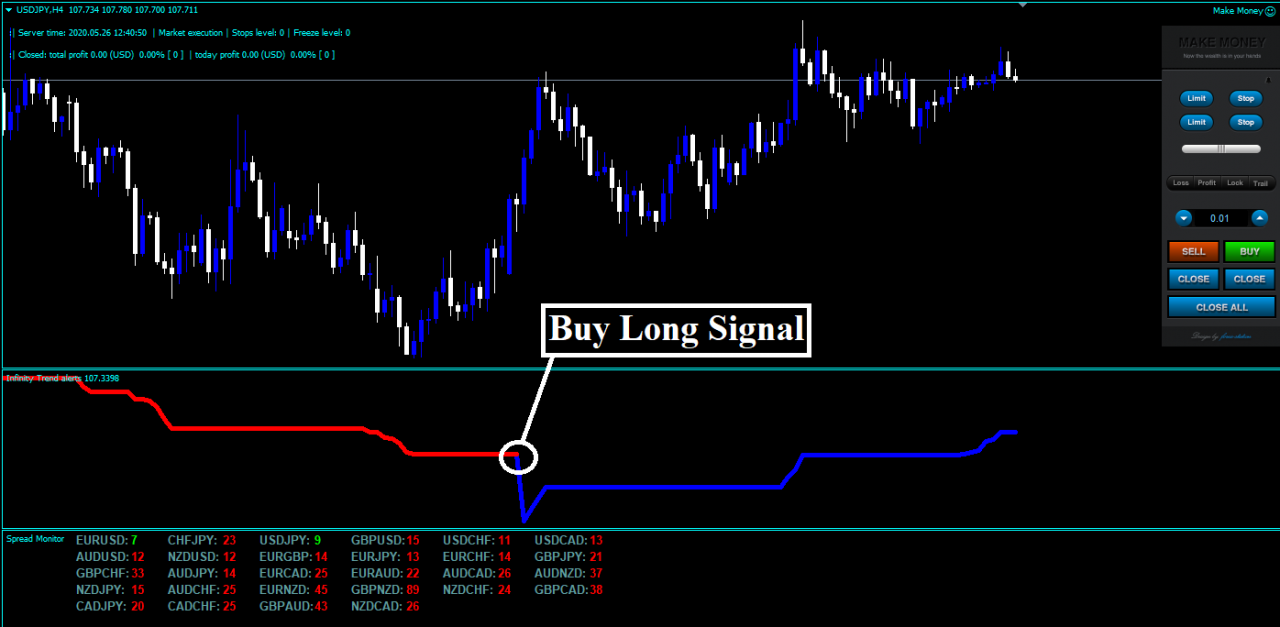 NZD/JPY Daily Trading Chart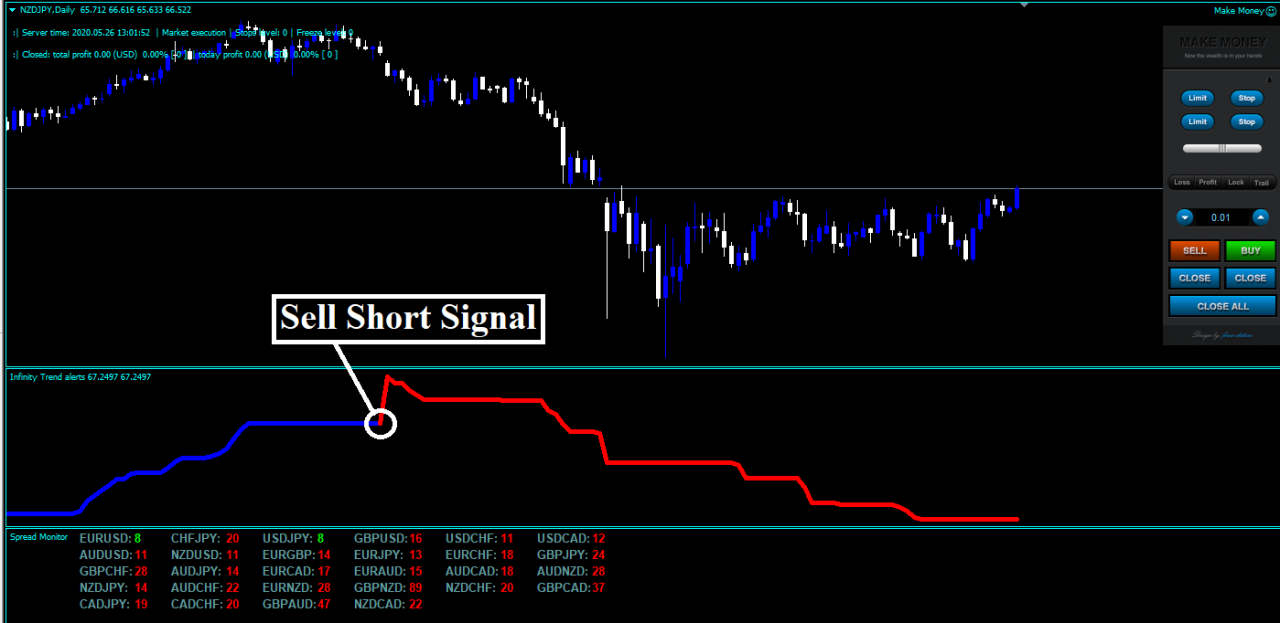 EUR/CHF Weekly Trading Chart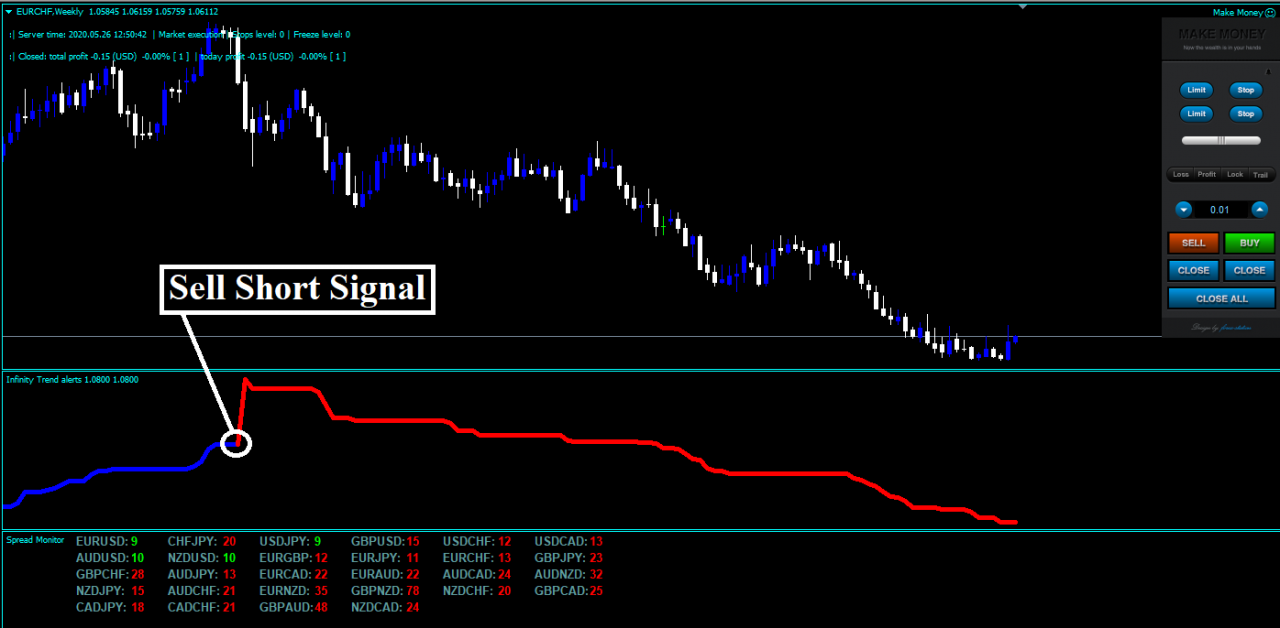 EUR/JPY Weekly Trading Chart