Description
Note: requires MT5 software to use
Features of the spike indicator
the boom and crash spike indicator is a very powerful spike detecting software, with very awesome features, these features include.
Spike Alert  ( from 10 to 100-second warning before spike)
Continues spike Alert (for double or continuous spikes at a time)
supports all Boom/crash Indices
M1 time frame spike pointer.
Bigger time frame trend pointer for Swing trading
Non-Repaint fully, guaranteed
Boom and Crash Indicator system can give you trading signals you can take as they are or add your additional chart analysis to filter the signals further, which is recommended.
Features
You can set up Boom and Crash Spike Detector Free Forex Indicator to send you signal alerts via email, SMS or platform pop-ups. This is helpful because it means you don't have to stare at the charts all day waiting for signals to appear and you can monitor multiple charts at the same time.
Boom and Crash Spike Detector System is available for all Forex pairs. You can also use it in any time frame that suits you best, from 1 minute to 1 month charts.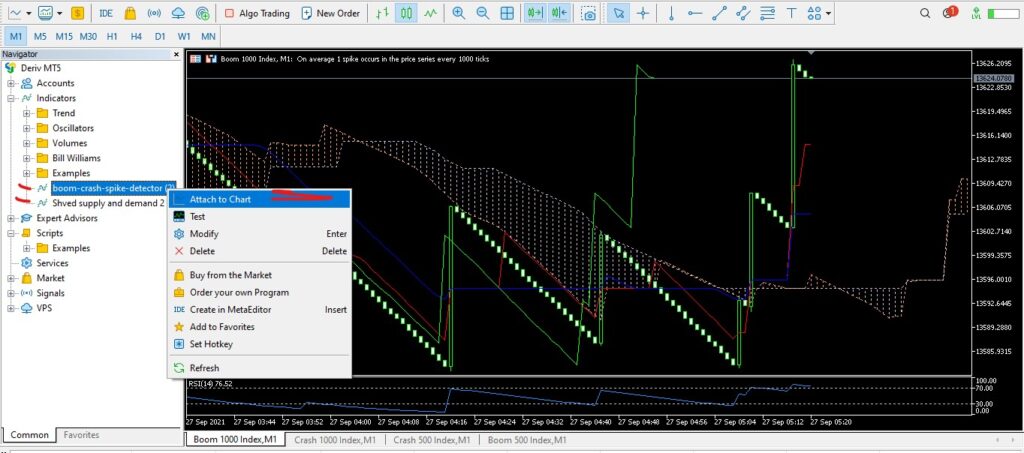 How Does The Spike Detector Work?
The Spike Detector for Boom & Crash indices is computer software that identifies potential spike entry points in Boom and Crash indices. The entry point is based on Support Levels, Moving Averages, Relative Strength Index, and Price Action.
The spike Detector combines all of these and identifies an entry point for your next trade. An arrow-like icon appears right before the spike zone to alert you about the potential spike.
I have set up this robot with customized settings & indicators and it works pretty great. Below are some snapshots of my trading setup.
How To Use The Spike Detector?
This Spike Detector for Boom & Crash has some rules that you need to follow in order to increase the probability of your winning trades. Below are some rules to implement before you start using the Spike Detector.
Observe The Trend: Before using the Boom & Crash Spike Detector, make sure the trend is in your favour. That means, for the spike detector to work perfectly, the Boom 1000/500 needs to be in an uptrend and the Crash 1000/500 in a downtrend. It does not necessarily mean that the spike detector will not work otherwise but it gives great results when the pairs are in trend.
Price Action: To utilize the Boom & Crash Spike Detector in the best possible way, you need to understand price action techniques. Some simple techniques include:
If the price gets rejected from a level again and again, there is a long-term potential in the position and you should hold one of your positions for long-term, depending on the timeframe.
If the market is not following the Boom & Crash Spike Detector entries on a certain day, take a break and wait for the market to kick out impatient traders. Never trade just because you have to!
The robot comes with highlighting support & resistance levels with different colors and properties. A support or resistance in orange/red color with description Strong/Proven means it is a good one and hence high probability of spike. You can use decent position size on that one.
Look out for different patterns in the pair such as ascending/descending triangles, wedges, head & shoulder patterns, candlestick patterns etc… This gives reliability to the position and will help you take on good positions only.