Description
The CLuster Trader Forex Indicator System, a highly reliable and effective trading strategy based upon price movement patterns and a unique set of author indicators, is a highly efficient and reliable trading system. This innovative system will provide you with accurate signals that are timely to help you make profitable trades. In this article we will explore the different components of the Cluster Trader System.
This system is built on four different indicators that are all rolled into one indicator. The system is easy to learn and implement, even for those who are new to trading.
This Forex Trading Strategy is completely manual. The indicators will produce the signals but the trader is responsible for making the decisions on whether to enter the market, set protection stops, or profit-making exit stops. The trader should be familiar with risk and reward principles and use initial resistance and support areas to set entry and exits.
This Forex Indicator System will give you trading signals that you can use as is, or to add additional chart analysis and filter the signals further. is recommended. This system is suitable for traders of any experience level. However, it can be beneficial to practice trading on a MT4 demo until you are confident and consistent enough to trade live.
The Cluster Trader System – A powerful single indicator
Cluster Trader System uses only one primary indicator, even though it may appear that there are multiple indicators. This powerful indicator includes several sub-indicators, or components, that perform specific tasks. These components include:
Momentum trend Trader (MTT). This lower histogram shows the prevailing market trend by showing the lower histogram.
Reverse point Indicator (RPI).This nonrepainting level indicates works on any timeframe from M1 (1 second) to W1 (1week). 

(Red/Blue rectangles)

Trend change correction (TCC)This indicator identifies the entry points for corrections by using arrows. It is suitable for trading both with and against current movement.
Trend change (TC):This indicator marks the primary entry point for opening a trading during a trend, or reversal. It uses arrows and texts.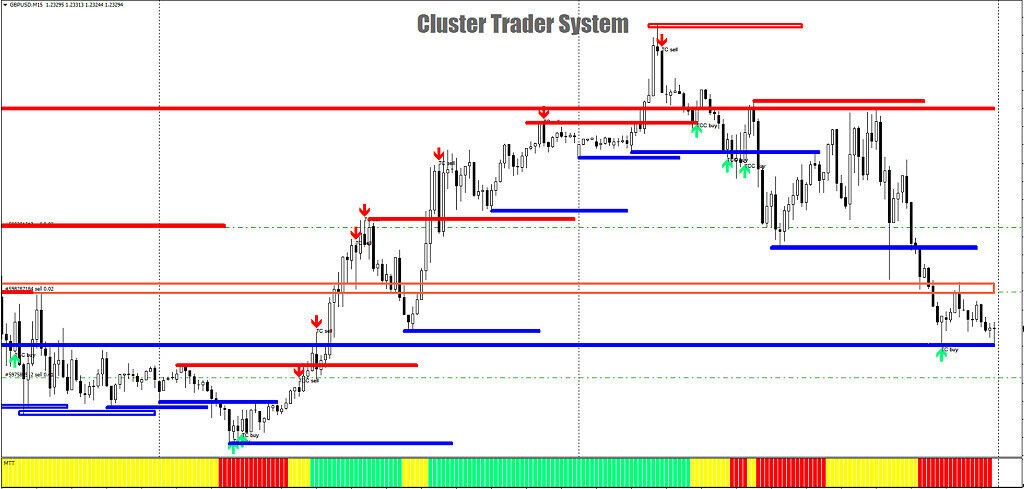 You can set up the CLuster Trader Indicator so that it sends you a signal via alerts. This is useful because you don't have to stare at charts all day waiting for signals. You can also monitor multiple charts at once.
This CLuster Trader Trading System is compatible with any Forex currency pairs and other assets, such as stocks, commodities or cryptos, precious metals or oil, etc. You can use it with any timeframe that suits you, from 1-minute charts to 1-month charts.
Trading Rules for the Cluster Trader Forex Indicator System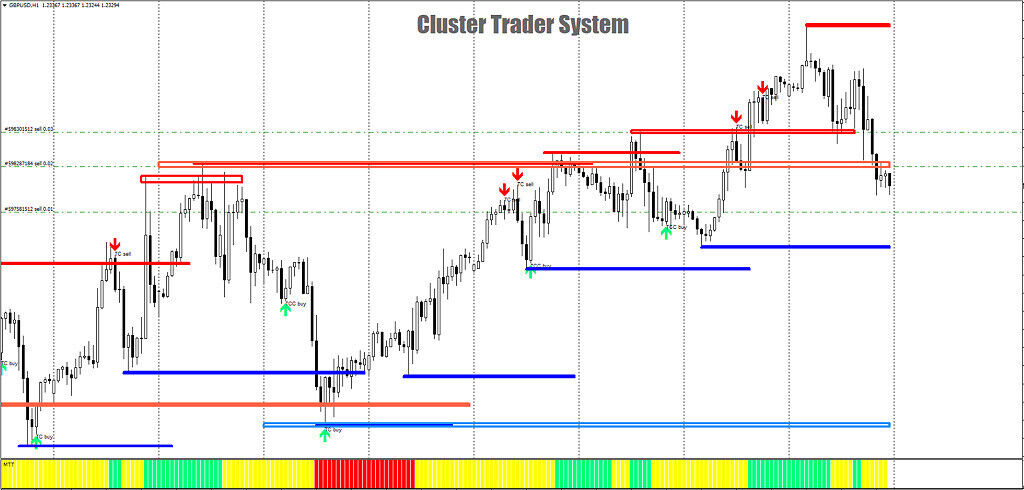 When using the Trend Following Strategy, remember to tighten your stop losses around High Impact News Releases and avoid trading 15 minutes before or after these events.
It is important to understand and adhere to the trading rules of the Cluster Trader Forex Indicator system for both BUYING and SELLING positions. These rules will ensure that you are making the best possible trades, by taking into account all signals from the system components.
Buy Position Rules
To open a BUY order, the following requirements must be met:
The MTT indicator must be a green to indicate an upward trend. 

This is not a requirement.

The price should be blue (Support level).
On the chart, a greenarrow must be visible with the text "TC Buy".
SELL Position Rules
To open a position for SELL, the following requirements must be met:
The MTT indicator must be red to indicate a downward trend. 

This is not a requirement.

The price should not exceed red.
On the chart, a redarrow containing the text "TC sell" must be visible.
These trading rules will improve your trading experience, and increase your chances of making successful trades with the Cluster Trader Forex Indicator system. Be disciplined and follow a strict trading strategy.
Trade Exist
This Forex Indicator System allows you to liquidate any position using a pre-determined profit target. can also be set as a profit target using the previous high-low, resistance or support level. You can also manually exit the trade if the conditions of the system reverse.
recommends using a stop-loss. Set SL below entry price, using previous support/resistance or the previous high/low swing as a reference. It is not recommended to use fixed stop loss settings that do not have any reference points.
Trading Recommendations For The Cluster Trader System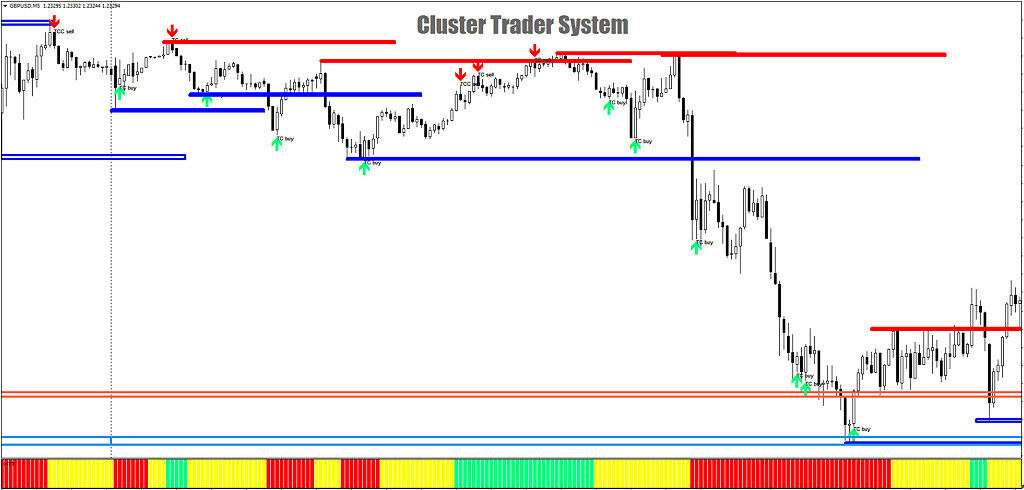 The Cluster Trader System offers simple trading recommendations in addition to the standard trading guidelines to enhance your trading experience.
When the MTT indicator is yellow, it means that the market has entered a flat phase.

 

In such cases, only trade the levels. The strongest levels are the ones that haven't been broken yet.

The TCC indicator must have an arrow (correction). This is a condition for trading against the trend.

Scalping transactions are permitted, but they come with increased risk.

 

You can use this approach for transactions. However, keep in mind that Cluster Trader System was designed for trend trading. The probability of a loss is higher when scalping.

 

We do not recommend this method of trading.
Conclusion
The Cluster Trader Forex Indicator is a powerful and comprehensive trading tool. It provides accurate signals as well as user-friendly trading advice. Its single indicator, which is composed of multiple components makes it easy for traders customize their trading experience.