Description
Trade Onix – Forex course developed by Russ Horn. System for any currency pair with any TF. Tradeonix system has trend following and reversal entry types. This is manual trading system. Activation is required after installation in mt4 (activation code is included in the package)
Features.
Basic tools/indicators – TRS- (time remaining/spread), Heat Map, TBS (trend bias short), TBM (trend bias medium), Switch, TBL (trend bias long), Tetragram (position to which the activation code belongs), Arrow Panel and Market Time.
Rule entries: (to be described in the user manual)
1. conservative entry… TBM TBL TBS One-way… Wait for a retracement with an arrow direction and then enter
2. Entry Aggressive… Arrows appear one-way TBM HTF Entry
3. SL on the last swing high/low or opposite TBM TBL… TP adjusts with its risk or after the opposite arrow appears
Send instantly to PAYPAL email
Packages include
Tradeonix System Indicator
Template.
User and activation manual (must read)
Trading manual
It is in here where you will discover the real secrets to making massive profits when you trade.
Not only will you access the secret custom indicators that make Tradeonix the accurate, powerful and easy to trade system it is…
Here's why the Tradeonix mega-system
is the only one you'll ever need and
why it's makes making money easy!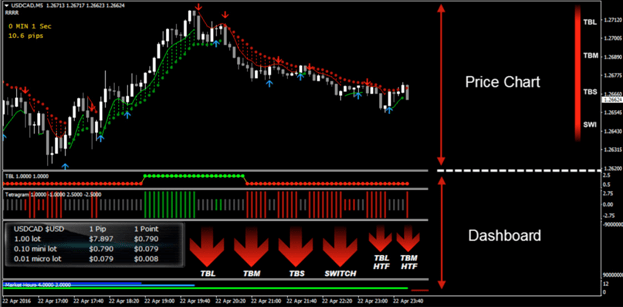 Everything you will ever need to make mountains of cash trading is included in one clean, easy-to-use interface.
There's no need to have dozens of indicators. It just confuses things and makes it harder to trade profitably.
That's why I created a suite of only the essential custom indicators that work together like a precision diamond cutter, carving out profitable trades with ease, repeatedly, over and over again.
Let's take a closer look at the indicators on the price chart itself first.
The TRS


The TRS indicator is simple, yet it saves you so much time.
No matter what time frame you look at, this indicator will tell you how much time is remaining before the current candle closes.
When you are looking for your next profitable trade, you can often be waiting on the close of a candle to give you the rock solid entry signal you're looking for.
Rather than having to work it out yourself, this just makes your life a whole lot easier and frees you to be doing other, more important things.
And the second part of this indicator tells you the LIVE spread for any currency pair you are looking at.
When I'm scanning through currency pairs, one of the first things I check is the spread because if it's high for some reason, then you are best moving onto another currency pair.
Why?
Well, the spread is how much you have to pay to trade that pair. Let's say the spread was sitting at 10 pips and you made a profitable trade, banking 50 pips. You would actually only win 40 pips of profit.
So, this lets you quickly rule out currency pairs when the spread is high.
There's no point in making your job harder than it has to be and this simple tool saves you so much time. It lets you focus on the best money opportunities at all times.
The Heatmap
The heatmap is a special visual representation of what's going on with the four main indicators.Inside the manual, you'll be given a secret key that shows you different heatmap combinations that result in the highest probability of making serious money.When you know the easy heatmap combinations to look for, this makes it very easy to assess a currency pair fast.

If the heatmap looks good, then it's worth looking closer for a potential trade! Such a timesaver!
The TBS


The TBS is a very specific kind of trend indicator that is custom designed to give you not only a very accurate trade entry signal, it also acts as an early warning signal of non-tradeable conditions.
Avoiding a trade during non-tradeable conditions is just the same as putting money in your pocket.
This will help keep your win ratio even higher by cutting away most of the losers.
When you trade using the unique Tradeonix style, this finely tuned indicator maximizes things on both ends.
It increases the money you could make on each trade and reduces the losing trades.
That's a real win win situation right there!
The TBM


The TBM is another powerful custom indicator, this time tuned for a different purpose.
I can't tell you exactly what it tracks, right here, that's reserved for VIP Tradeonix members only and is only revealed once you become a member. However, I will tell you that this gives you a strict instruction on whether to go long or short. This saves any guesswork on your part so you can focus on collecting the profits.
This part of the system also gives you exact instructions for the optimum stop loss level. Tradeonix uses a secret stop loss technique that causes a mathematical principle to work in your favor which causes your losses to be massively reduced. The risk:reward ratios will be heavily weighted to your benefit when you use this. It will be one of your best friends very soon because it's a crucial key to your success, and the huge profits that could be soon heading your way.
The TB Cloud


The TB Cloud plays a very important role in your overall success using the Tradeonix system.
This custom indicator is designed to measure the momentum in the market at any given time.
When you discover the secret to using this properly, (it's super easy, you'll get it in seconds once you see the manual) you will absolutely love it.
If you've traded before, you know how sometimes you can find yourself in profit, yet the price has been hovering below your take profit level?
In these situations, traders tend to close the trade early to lock in the profits, out of fear the price will move against them.
How do you know what to do?
Well, if you can see at a glance that the momentum is still strong, then you might even increase your profit target level, to maximize your winnings.
On the opposite side, if you see the momentum has been slowing, then you'll know whether you'd be as well banking the profits you already have.
This indicator is a gold mine!
Switch


Despite how it looks, this isn't anything like the arrows you might have seen on other trading systems.
This is actually a highly tuned, micro-level analysis engine that is used to alert you to glitches in the price action.
This indicator is VERY sensitive and incredibly Accurate, and there will never be a time you trade without the say-so of this master indicator.
I can't go deeply into how it works here, again that's one of the secrets that only members will be initiated into.
All you need to know is this… In no circumstances do you trade without this guy's say so!
The TBL


The TBL is a visual representation of a hidden indicator on the price chart. It was custom made to keep the price chart clear of distractions.
The price charts are kept super clean so you can focus on the exact price action tools that make the money for you.
This ensures you always know the longer term trend direction at a glance, and once you discover how to trade using the Tradeonix mega-system, you'll find that having this information displayed in this manner saves you a mountain of otherwise wasted time.
There's no need to manually go and check that stuff with Tradeonix.
Easy and simple is one of my motto's!
The Tetragram


The Tetragram is a special custom hybrid indicator.
It uses a unique combination of factors from the four main Tradeonix indicators, and it reveals hidden money information that is completely invisible to the naked eye.
The secret to how it works is classified to the general public.
However it gives added security to the other trade signals and can also identify false signals that otherwise would be missed.
This is your safety net. Your second opinion.
Some people are never quite sure when to use an aggressive or conservative style of trade.
Well, that won't be you.
This will tell you exactly which one to use and when!
This alone could be worth tens of thousands of dollars or more for you over the next few years, that's truly how powerful this is!
Every single part of the Tradeonix system is there for a very specific purpose and all of them work in tandem to produce the amazing results that people have been getting (and you could get) using it!
The Arrow Panel


The arrow panel is like the master hub of the system and is designed to present the most important information you need to know at any given second.
The Pip Value section is really handy, especially for beginners and for people that suck at (or just hate doing) mental arithmetic.