Histogram Divergence Indicator MT4 automatically detects and draws divergence lines. To identify divergences between price and MACD, the indicator uses MACD – Moving Average Convergence and Divergence Indicator. The indicator displays bullish and bearish divergence lines in the indicator window and on the price chart. Forex traders can determine the best entry points and then buy or sell based on those entry points.
The indicator is compatible with all intra-day charts as well as long-term charts, such as daily, weekly and monthly price charts. Both novice and experienced Forex traders can use the indicator to trade divergences. Divergence trading can be a reversal trade and is prone to failure. Advanced forex traders should use technical analysis and price action to confirm price reversals before entering the market.
Histogram Divergence Indicator for MT4 Trading Signals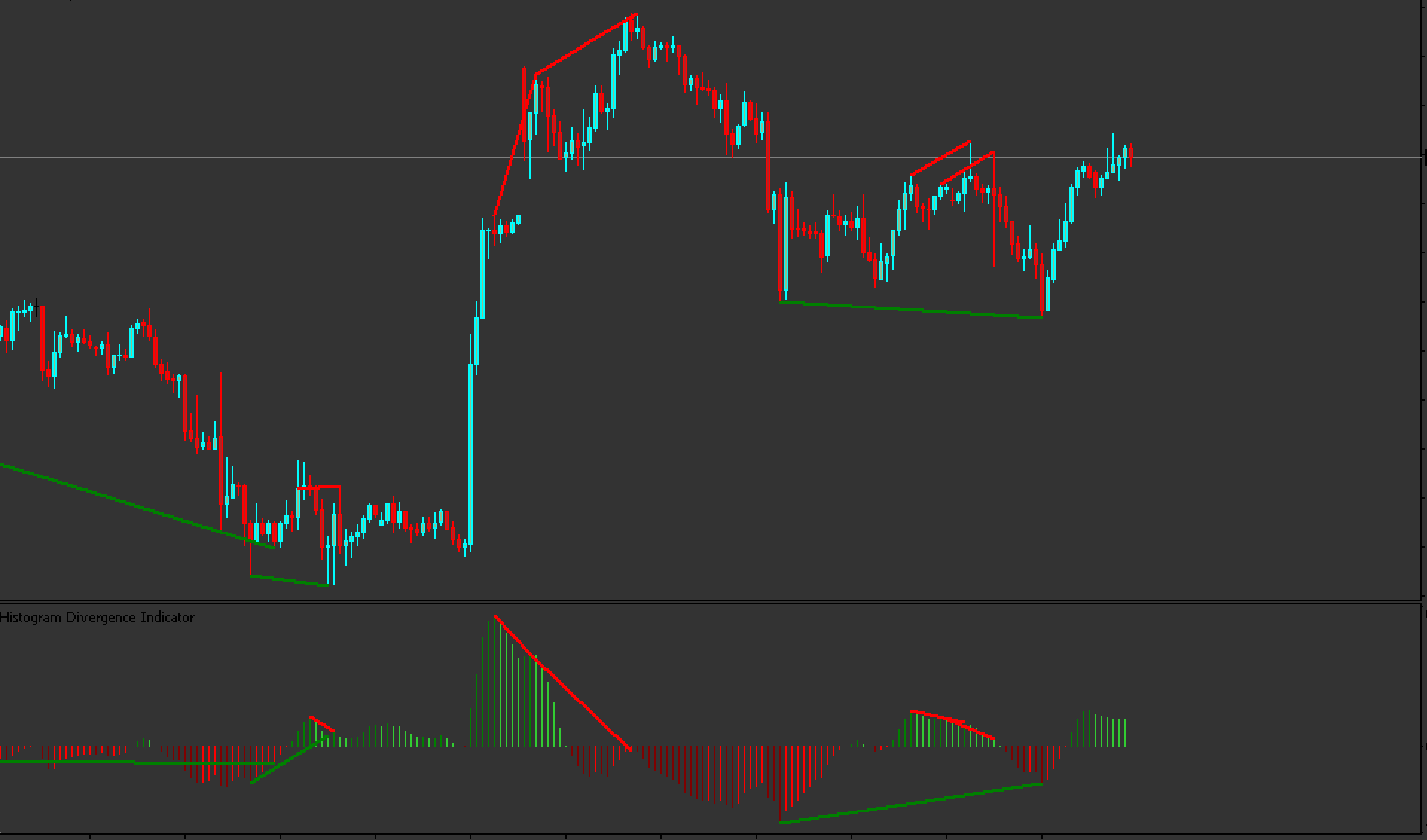 Divergence trading is the identification of potential trend reversal points. If the indicator and price are pointing in opposite directions, then a valid divergence has been identified. Once a divergence is identified, the indicator plots a trend line on the price chart or indicator.
If the indicator plots below the price, it indicates a possible bullish reversal. Forex traders should buy with a stop loss below the swing low. Forex traders should not set profit targets, as the indicator does not provide any targets. Instead, they should book profits with a high risk-reward ratio.
Similar to the above, a divergence above price indicates a possible bearish reversal. In order to enter the market, traders should sell at the top of the swing high and set a stop loss.
All types of price reversals are prone to failure and may provide multiple false entry signals. The indicator may detect a divergence earlier than expected. There may still be market participants who favor the current trend. This may cause prices to move in the same direction as the trend, even if the actual price reversal occurs.
Best results are achieved when divergence occurs near strong support or resistance lines, channels and trend lines. Divergence trading using multiple technical indicators, such as the RSI – Relative Strength Indicator, can provide the best results.
Divergences over long time frames are more likely to be profitable and provide long-term price action. The number of signals available for trading may be smaller. Divergence signals occurring in shorter time frames are also common. This MetaTrader indicator can be used by all types of traders, such as scalpers, intraday traders and trend traders.
Summary
Forex traders interested in divergence trading will find the MT4 Histogram Divergence Indicator to be an indispensable trading tool. After identifying a divergence, traders must confirm that the price has reversed.