Forex Entry Points Pro Indicator Review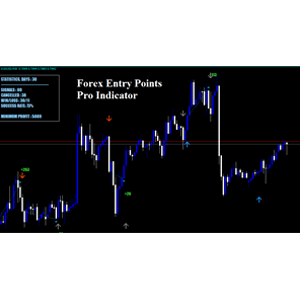 This post will review the Forex Entry Points Pro Indicator. It displays options for entry on the MetaTrader 4 platform's charts. The indicator comes with a template for trading and built-in indicators you can use to apply the indicators to specific chart symbols or timeframes. The default settings can be used or you can adjust them to suit your needs. To begin, I'd recommend opening a demo forex account and using this manual strategy only as an additional indicator to my market analysis.
Forex Entry points Pro Indicator Strategy
Forex Entry Points Pro Indicator analyzes the price behavior on the chart every minute and calculates potential entry points using the built-in algorithm. This is a mixture of price action and trend trading. Whilst I think it can be good to trade in the direction of the overall trend as it gives you a chance to catch big moves, trying to catch the start of a trend can be difficult and even cause you to get whipsawed in and out of the market if you are not careful.The Forex Entry Points Pro strategy can send you alerts when there is a signal so you don't need to study charts all day and analyse the markets for potential setups. You can follow multiple currency pairs or chart timespans simultaneously. The Forex Entry Points Pro Indicator will find the best trade setup. You can decide whether you want to go into the market immediately or wait for the next signal. But, not all signals are good signals. The Forex Entry Points Pro Indicator works better when combined with more technical analysis and fundamental analysis. You should also consider your money management. Although you can use the Forex Entry PointsPro Indicator signal for entry and exit, it may not match your desired risk-to reward ratio. To have more control of your trading, you can choose your stop loss or take profit levels. If there is a positive risk/reward ratio, I will only take trades where one loss does not wipe out many wins. To maximize each trade and ensure that good trades are locked in at breakeven, I recommend using trailing stop losses.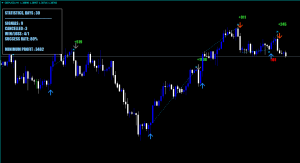 Positively, Forex Entry Points Pro Indicator can be used with any type of financial instrument, from forex to cryptocurrency to metals to energies. The forex indicator can be applied to all time frames, including day trading and swing trading. The 1-hour and longer charts are better for me. This is because they filter out the more noise that can come from lower timeframes. A signal is only confirmed if it appears (if the candle has been closed). This is in contrast to indicators that use redrawing which may show signals and then erase them. Although these strategies are often superior to historical data, real-time signals might be quite different.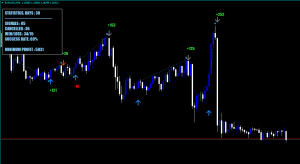 Forex Entry Points Pro indicator Features
No repainting required or delay for entry signals
Trades are opened error-free
Any asset can be used with Entry Points Pro
Trend filter provides signals in any direction
Analytical and statistical details
Doesn't affect the functioning of the terminal
You can use any chart timeframe
Support for multi-languages
Push messages and visual alerts to your mobile phone
Experts and beginners will find detailed instructions.
Forex Entry Points Pro-Indicator Summary
The Forex Entry Points Pro Indicator is a good tool for creating a flexible and simple trading strategy. However, it requires some prior experience. Because I believe there are too many false signals, without doing additional market analysis in order to filter the trades appropriately. You will then need to create a strong forex trading strategy and maintain control over your psychology and trader discipline. There are many options available for forex brokers, making it difficult to pick the best one. For both manual and automated forex trading, IC Markets is my preferred forex broker. Because they have low spreads and commission fees, as well as plenty of liquidity that allows you to execute trades at the most competitive forex market prices. My experience with them has shown that they offer great 24/7 customer support as well as a variety of accounts funding options. However, it is not that much different from something you can build by simply using the standard trading indicators included in the MT4 platform. You can get everything packaged up nicely with clearly-coloured signals. It is worth opening a risk-free demo account first to check out the Forex Entry Points Pro Strategy. You will also receive instructions, free updates and full support.
Forex Entry Points Pro indicator
The pros
Clear Buy/Sell Signs
Sign up for Alert Notifications
Combination of Market Analysis
Versatile Trading System
Simple To Use
Every trading instrument
All Chart Time Frame
Every Forex broker
Instructions in detail
Complete Support
Cons
MetaTrader 4 is the only available
A basic trading strategy
You Need To Take Your Time to Learn How To Use
It requires some user initiative
No Verified Results