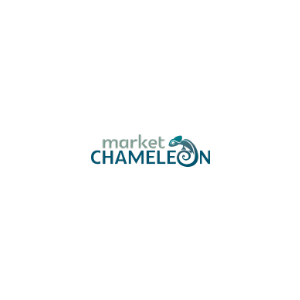 Market Chameleon provides financial market information, including trading signals and data on options and stocks. Market Chameleon's research platform allows traders and investors access market data and earnings. It also provides information about press releases, earnings and dividends. This is used to calculate volatility, Greeks, and other risk metrics. Market Chameleon is a tool that was designed by ex-exchange floor traders. The goal of the Market Chameleon platform was to provide trading professionals with useful and simple insights into the financial market. This Market Chameleon Review will focus on the main features and explain how they work. This review should help you decide whether this software is right for you.
What exactly is Market Chameleon, you ask?
Market Chameleon, a market research tool, aims to make trading easier and give high-probability trading signals. It is supported by real-time data. The dashboard is intuitive and easy to use. You can quickly filter the information you need in order to make informed stock- and option trading decisions. It has a lot of information on how to use the site and lots of data that you can analyse. The website has many great features like custom watchlist filters, option contract downloads, and you can easily screen through thousands trade options in just minutes. This will allow you to choose the right position for your investment strategies.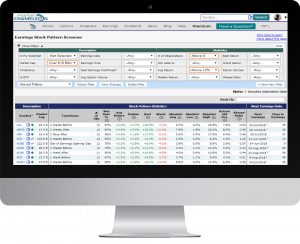 Market Chameleon: How does it work?
This software can save millions of options and stock data points and performs complex calculations in order to help users find potential trade ideas that have high probabilities. Users set their filters to determine which trading ideas are most likely to be successful. Market Chameleon uses historical, past and future-looking data to analyze the market. It helps me ensure it has all the bases. MarketChameleon.com works directly from your browser. You don't need to install or download any extra software. Although a Web/RESTAPI is currently not available, premium users may download csv data files.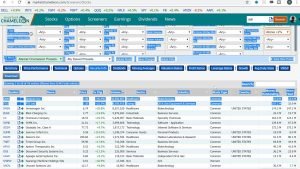 Historical Data
Historical data is information about a company's past, such as its revenues, earnings, and stock price action. A financial asset's historical return is the rate and performance of its previous returns. This could be a stock, bond, stock or security. Historical data is often used for financial analysis. Market Chameleon analyzes years of stock behavior under various market conditions to create trading benchmarks. It can also calculate theoretical values and probabilities. This database includes daily option prices that go back as far back as 2014 and daily stocks prices and earnings reports back up to 2009.
Historical Volatilities going back more than 3 years
Dividends Historical and Stock Splits
Historic Earnings, and the price effect
Historical data on Volumes and Equity Prices dating back more than 5 years
Actual Data
It is a condition in which the market price moves in an opposite direction to an indicator like an oscillator. Divergence indicates that there is an underlying price trend which may weaken and may in some instances lead to price changes.
Intraday Market Data — quotes and trades for market-traded securities and their options
The Home Feed is a continuously-updated feed of market events
Complete Option Chain with Prices and Volumes
Analysis of today's biggest movers
Volume Reports
News announcements and new listings
Press Releases from the world's largest companies
Forward-looking data
Market Chameleon's trading tool collects information from SEC filings, investor relations websites, and press releases in order to spot forward looking events that may be catalysts for market movements.Coming earnings Earnings date is the date of the next release of a company's financial report. Earnings report date is the date of an official announcement about a company's profitability for a specific time period.Dividend predictions: Dividend Forecasting provides independent estimates of the timing and amount of dividends on stock globally.PDUFA Dates: The PDUFA date refers to the date the Food and Drug Administration (FDA) are expected to deliver their decision whether or not a approve a company's New Drug Application (NDA) or Biologics License Application (BLA).Meetings with investors and conferences They bring together financial sponsors, corporate leaders and institutional investors in order to examine market and sector trends.Analyse of emotions: Market sentiment analysis is the investigation of the actions and opinions of other market participants. Let's take retail traders as an example. The sentiment can be considered a buying sentiment if the majority of retailers are purchasing a currency pair. A selling sentiment is when the sentiment was overwhelmingly expressed by traders who are buying a currency pair.Implied volatility: Implied volatility is calculated by taking the observed option price in the market and a pricing formula such as the Black–Scholes formula and backing out the volatility that is consistent with the option price given other input parameters such as the strike price of the option.Risk analysis: The process of assessing whether an adverse event could occur in the business, government or environmental sectors is called risk analysis. Risk analysis is the study of the underlying uncertainty of a given course of action and refers to the uncertainty of forecasted cash flow streams, the variance of portfolio or stock returns, the probability of a project's success or failure, and possible future economic states.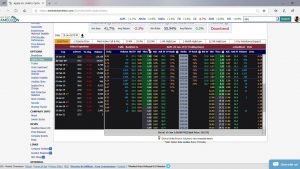 The Market Chameleon
MarketChameleon.com offers unique online trading tools to investors and traders who are interested in options and stocks. They aim to become the leading provider of options data. This includes both options fundamentals and options analytics. Options have been a very popular instrument for trading over the years. Options data, analytics like option chains, Greeks open interest and sentiment triggers can provide valuable forward-looking indicators to stock and options traders. These data provide insights into upcoming profitable trading activities, especially when they are combined with fundamentals like earnings projections and dividend actions. Market Chameleon hopes to address this need. They don't charge high fees or require long term subscriptions like some other data services and the information is not overly complicated, making it easy to interpret for users of all experience levels.Market Chameleon provides you with a low cost, easy to use trading tool what has a minimal 15-minute market delay. It combines option analytics with stock fundamentals, and offers both tabular views and graphical views. This software provides quick and accurate trading insight.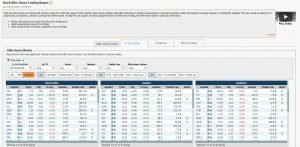 What is the cost of Market Chameleon?
MarketChameleon.com offers premium subscribers the ability to access a wide range of data within a matter of seconds into standard industry spreadsheets like Excel. This can be especially useful to investors and analysts who have more complex requirements when it comes to market analysis.That being said, you don't need to be a premium member as free registration still lets you customize your Market Chameleon dashboard with your own stock watchlists. E-mail updates are available for users. Premium access is also available.
Stock Trader $39 per month
Option Trader $69/month
Earnings Trader $79 per month
Total Access $99 per Month
Guides & Tutorials
Some users may be put off by the expected complexity of Market Chameleon's software. It can feel overwhelming to see the website. Multiple tabs allow you to access different parts of the trading software. While this is great because it allows for variety and provides many features, it can also be overwhelming to some. There are videos tutorials and guides available that will help you understand how Market Chameleon functions.
Market Chameleon Conclusion
Market Chameleon offers the best in trading tools and investment tools to analyze stocks and other options. However, it is a fraction the cost of comparable products. You don't need to be a member of a specific brokerage or trading platform. There are also no long subscriptions. The vast array of functionalities and features available within this trading platform can be used in any way you choose, with any brokerage firm. It makes you wonder why brokers don't include such in-depth market analysis tools by default.I would say that the platform could be overwhelming to some users although the support team are readily available to help you if need be whilst there is a good selection of educational resources to learn more about its capabilities. Market Chameleon can help you make informed financial decisions if your interest is in complicated market analysis. You can test it risk-free for 7 days with Market Chameleon's free trial. If it does not help your trades, you may cancel within the 7-day trial and no charges will apply.
There are pros
Stock market research
Option trading tool
Market analysis in detail
Analytical platform that can be accessed via the internet
Historical Data
Actual Data
Forward Looking Data
Interface intuitive
Tutorial videos & guides
Try it for 7 days free
Cons
The top plan is essential for most traders.
Sometimes interface can seem confusing
It is not all features that are equally useful.
Learning curve steep