UK Forex Brokers Top 10 Best UK Broker Reviews
Forex Brokers in the UK
Recognized as a financial center and economic hub, the UK has been a reliable location for European companies and a large number of major forex brokers throughout history and today.
UK Regulation
Companies looking to open a branch or establish a brokerage in the UK are certainly attracted to offer their services through the most popular locations, however, the company must have a registration and fully comply with the UK specific rules.
The only body responsible for financial transactions in the UK is the famous Financial Conduct Authority (FCA), for a historical breakdown of which please visit the Wikipedia page.
The FCA is an agency whose mission is to oversee financial investment activities with exchanges, brokers and other organizations and to ensure that financial markets are operating in an orderly manner.
In addition to numerous and sometimes strict operational requirements, the authorization of the mandate provides a safe and secure trading environment for traders and all clients who trade with Forex brokers in the UK.
In addition, the security of funds is guaranteed by the FSCS (Financial Services Compensation Scheme), which guarantees investments in the event of an authorized firm's insolvency up to £80,000 per client.
In addition, the FCA remains a very active public body. You can check the records and confirm the details of the company through the official website of the FCA. FCA website: www.fca.org.uk.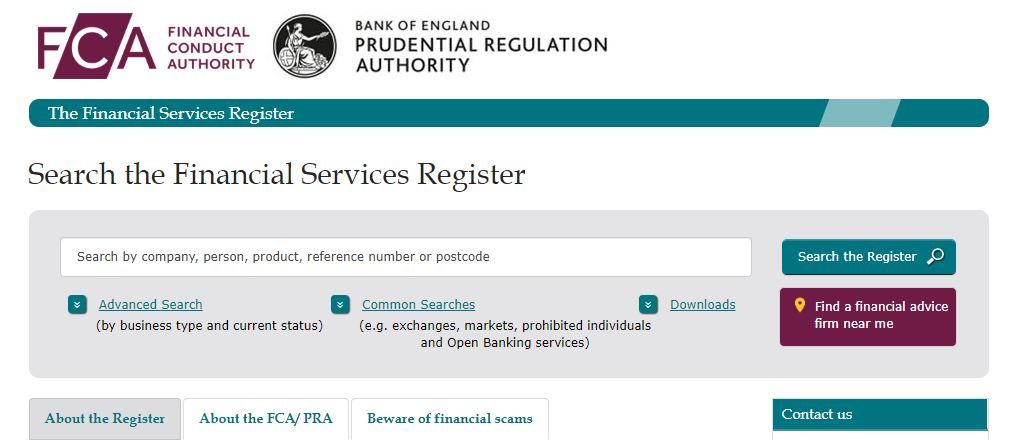 UK Forex Brokers List
These are the regulated brokers that accept clients from the UK:
Forex trading in the UK FAQ
What is the initial funding amount for trading with a forex broker based in the UK?
The initial deposit for trading with a UK based approved forex broker is only £15. Please note that the amount of money you start with may limit the trading strategies you can use.
Some will even accept less than £15 – the amount of your initial deposit depends on the type of account you have. In any case, institutions generally need to make larger initial investments.
The advantage of working with foreign brokers in the UK is the fact that they are allowed to offer traders high leverage. This means that there are a lot of very high leverage forex brokers in the UK. This means that you do not need to have a large amount of capital to begin with.
Will my money be protected if a UK licensed broker fails?
One way that the FCA protects consumer money is through the implementation of its Financial Services Compensation Scheme (FSCS). This scheme provides payouts to brokers in the event that they become insolvent and are unable to provide services to their clients.
The FCA provides indemnity. The FSCS can provide compensation of up to £85,000 in the event of a claim. If your claim exceeds this amount, you will only receive the maximum amount of £85,000.
Do forex brokers in the UK also offer CFD trading?
Most forex brokers in the UK also offer CFDs. Because CFDs are able to track the value of foreign currency pairs, they can work hand in hand.
How safe is my money when I use a UK based forex broker?
Since the FCA oversees and regulates all forex brokers registered with it, brokers must adhere to strict guidelines to keep your money safe. This is why all UK-based forex brokers must have a minimum of £1 million in working capital during the time they are serving their clients.
This ensures that things are run efficiently and that clients receive their payments in a timely manner. It has the added benefit of giving clients confidence that the broker is financially stable.
In addition to this, the FCA requires traders to distinguish their working capital from the dealer's working capital. This will help prevent your funds from being misused or abused.
Is Forex trading taxable in the UK?
Forex trading is tax deductible in the UK. However, unlike brokers registered in the US, there are no restrictions on trading for foreign brokers in the UK. It is not a matter of hedging, nor is it a matter of leverage restrictions.
In addition, forex brokers operating in the UK offer a wider range of trading options, as binary options as well as spread betting are allowed to trade in the UK.
What payment methods do forex brokers in the UK offer to their clients?
Another advantage of trading forex with a forex broker registered with the FCA is that all possible payment methods can be considered. If you want to pay by credit card (Mastercard, Visa, UnionPay, etc.), online payment processor (Skrill, Neteller, QIWI, etc.), payment by check or bank wire transfer, all methods can be used.
It is worth noting that while wire transfers can be processed in less than a day after the withdrawal request, it may take up to five business days for the money to be deposited into your account at the bank.
Will a UK forex broker trick me into participating in a fraud?
Let's start by saying that if you join an online broker that is registered with the FCA in the UK, it is very likely, almost impossible, that you will be involved in fraud.
Once this happens, the FCA will quickly revoke the broker's license and impose severe sanctions, ultimately damaging its reputation to the point where it cannot continue trading and even its company executives will have a hard time finding work again.
Is there a way to stay away from the risk of a UK forex broker scam?
To make sure you are not a victim of a scam, you should check the list of FCA regulated companies online. If the company you are considering does not appear on the register, set it aside. If it does appear, it is important that you do your own research and learn more about the business.