FXCC Review: Is FXCC a Scam or Legit Forex Broker
FXCC is an ECN/STP brokerage licensed by the governments of Vanuatu and Cyprus and it was founded in 2010. It received many awards in 2017 and offers traders the famous MT4 trading system. All traders have access to a minimum spread of 0.0 pips, trade without commissions and have a leverage limit of 1:500, except for traders based in Europe, who are subject to EU restrictions on leverage. FXCC also offers in-house research for clients and a wealth of content for new traders. The large liquidity pool makes it perfect for scalpers as well as automated traders with large portfolios.
FXCC Pros and Cons
FXCC forex broker has been praised by many traders around the world and they have also received many awards. FXCC broker offers dedicated services provided by a team of professionals and the best trading environment based on high quality technology. FXCC has good trading tools and spreads are at a medium level.
On the other hand, the educational tools are quite limited and the platform is limited to MT4.
Is FXCC a real and safe investment or a scam?
FXCC it is an enterprise authorized by the Cyprus Securities and Exchange Commission (CySEC) and is considered as a low-risk trading broker. Because it is an authorized firm through an EU member state, the broker also operates automatically under the EU Markets in Financial Instruments Directive (MiFID) and is registered across borders within its country, allowing it to offer its services within the European Economic Area.
In addition, another organization that FXCC provides services to is located in Vanuatu. It is an offshore territory. Vanuatu does not have any specific obligations to its financial institutions, which could be a risky investment if the company is based only in Vanuatu. However, trading with FXCC is considered safe because it is subject to additional regulation by European regulators.
Investor Compensation Fund
Provides protection for clients' investments in a variety of ways in accordance with regulations and setup rules. In addition to segregating client funds at all times, various risks are controlled and managed in compliance with various regulations. In addition, FXCC is a participant in the Investor Compensation Fund, which protects the rights of clients and allows them to receive compensation in the event of corporate insolvency.
Leverage
Like most Forex brokers, FXCC offers leverage, which is a powerful tool that can increase the chances of profitability, as it can have multiple accounts with similar balances. However, leverage must be handled with caution as it can also increase the potential for losses.
The amount of leverage is based on the currency you are trading in and is determined by regulations and your proficiency level. Therefore, European retail clients and traders trading with Cyprus FXCC entities are able to benefit from an effective leverage of 1:20 on the major currencies. Due to ESMA restrictions, the smaller currencies are 1:20 and commodities are 1:10.
However, when you trade with international FXCC affiliates, you can benefit from greater leverage, up to 1:300.
Types of accounts
Within FXCC's account offerings, there are three types of ECN accounts, divided according to experience level, size and specific needs. Some accounts offer additional benefits such as no markups, commissions or swaps, or may offer fully customized solutions for active traders or traders with larger sizes.
If you trade with an FXCC ECN account, you will have instant access to various currencies EURUSD, GBP, USD, accompanied by high spreads of 0.01 pips. You also have access to a range of free tools to trade 30 currencies, such as SMS notifications, VPS and EA. as well as technical analysis and trading tools.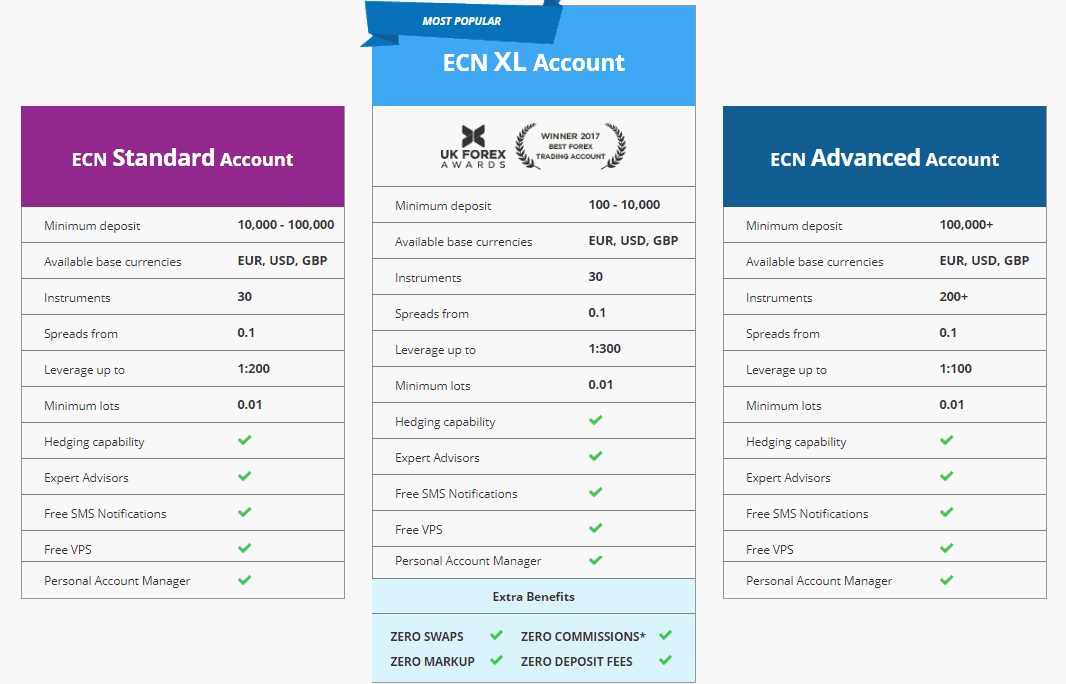 Unique Features
FXCC offers a free VPS service that provides automated trading solutions. Its services are provided by BeeksFX. However, FXCC clients must maintain a minimum balance of $2,500 and a trading volume of 30 regular lots per month. In other words, the fee is $30 per month.
Research and Education
FXCC provides clients with daily technical analysis of the EUR/USD, GBP/USD and USD/JPY. Each analysis is concise, but it provides all the necessary details on the positions traders need to take. The analysis is clearly presented. The blog also exists, which includes market-related articles, but its Forex news section does show a huge gap between articles.
FXCC offers in-house research on the three most popular exchange rates.
New traders can access fourteen educational and informative articles of the highest quality, as well as separate chapters on the most important economic reports. eleven eBooks are the final part of FXCC's educational offerings, and the overall quality of the product is impressive. Five MT4 user guides can also be found, as well as a Forex glossary. FXCC offers an excellent educational program for traders who are new to trading, and traders can grow from it. While there are no interactive courses or videos, the current content provides a good introduction to trading.
Deposits and Withdrawals
Deposit and withdrawal options include a wide range of products from different providers, covering almost all customer needs with truly global coverage. These methods include card payments, bank wire transfers, Neteller, Skrill, Neosurf, SOfort, Rapid , paysafecard, Neosurf, Yandex, Boleta, UnionPay and many more.
Customer Support
Customer support is available 24 hours a day via web form, email, phone, fax or live chat. FXCC also operates seven social media outlets. The FAQ section addresses some of the most common questions. FXCC is very clear about its services and products. Most traders do not need additional help unless it is an emergency. FXCC guarantees quick access to clients in case they need help.