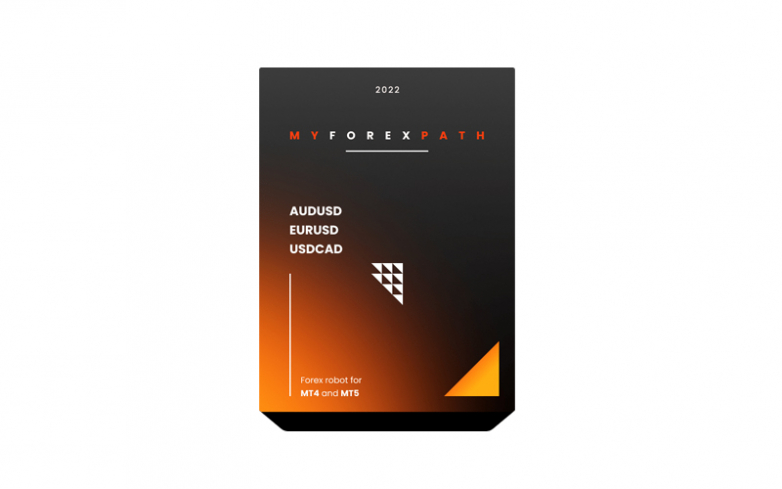 MyForexPath has an estimated win rate of 65-70% for Forex trades. It is compatible with all brokers. The developers guarantee it will replicate the same results on your account as it does on its own. To prevent unintended losses, your EA account has an automatic drawdown control system.
We don't know who the creators of this robot are. The sales pitch does not include this information. It is difficult to determine where developers work and whether they have the necessary skills.
MyForexPath

Type

Fully automated EA

Pricing

$285

Strategy

Compatible platforms

MT4, MT5

USDCAD, EURUSD, and AUDUSD

Time frame

N/A

Minimum deposit Deposit

N/A

Deposit recommendations

N/A

Utilize leverage

N/A
Trading strategy explanation
It works in conjunction with the trend-following strategy. To identify a trend, it uses indicators such as Parbolic or MA. The EA then places orders according to the trend. If the trend is changed or an entry fails, the EA will close any trades that it has opened before to repair a small loss. It is prevented from losing large amounts if the trend direction changes. Robots will implement actions that compensate for unnecessary losses as quickly as possible.
Backtest data analysis
MyForexPath is certified to work with all currency pairs. All backtests are based on data from 2015 and have shown 7+ years worth of consistent and good results. Let's have a look at one of the reports below:
During this simulation period the EA traded the AUDUSD currency pair using H1 charts from 2015-2022. With a deposit of $1000, the EA made a large profit of $9355224.14 We can also see that the profit factor of 1.93 indicates that this system is very profitable. A high drawdown (39.52%) was recorded at the time. Trading risks increased over time, this means.
The trades were executed in 1827 cases, while the success rate for short positions was 69.47%. With 71.23%, the performance of long trades was slightly higher.
Live trading data analysis
Trading results

Myfxbook Account

FXOpen (USD), Real

Started

Nov 21, 2019

You can deposit

$2000

Balance

$22329.91

Gain

1016.50%

Daily

0.27%

Monthly

8.41%

Drawdown

37.61%

Profitability

$20329.91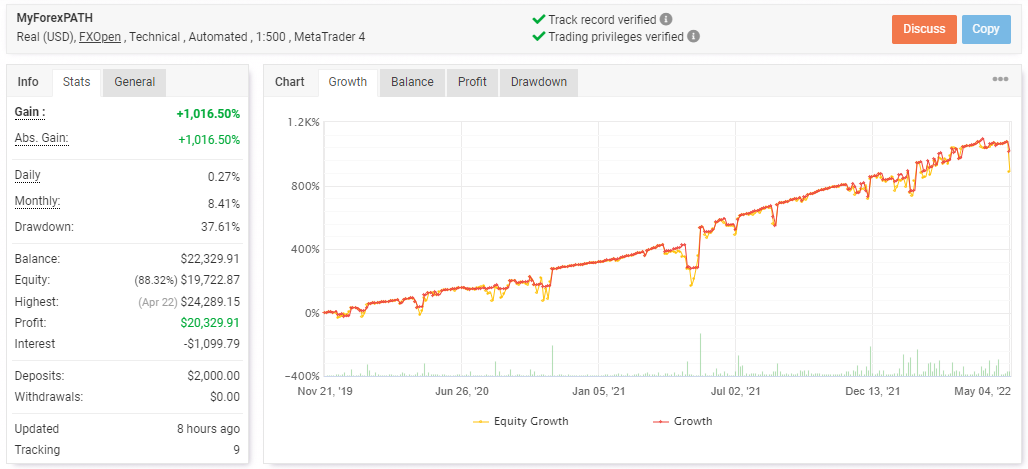 These results show that MyForexPath has a profitable business model. It has made steady profits since November 2019, for the most part. The EA started trading in November 2019 with a balance of $2000. It has since increased tremendously to $22329.91. After the robot earned a profit in excess of $20329.91, this is what happened. Consequently, the account's value has shot up by 1016.50%.
The drawdown however is only 37.61%. This indicates risky trading. We can see that the EA's risk/reward ratio is poor at 4.5:1.

EA already has conducted 656 trades for this account and achieved an average profitability rate (65%) in that time. This also shows that the EA loses more often than it wins. The average loss is -72.51 pip, compared with the win average of 32.76 pip. EA also suffered losses of -2930.8 pip. There are currently 203.80 lots traded.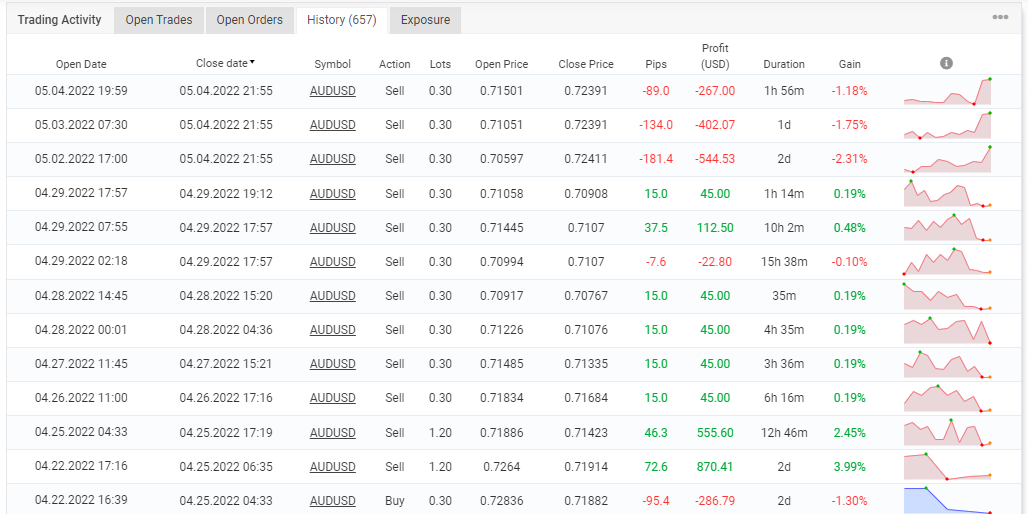 There are elements that make up the grid strategy. EA can also work with large lots and suffered huge losses in recent years.
Review by customers
This tool has not been reviewed on Trustpilot, Forex Peace Army. The tool is not likely to have been used on traders' accounts. It is possible that we may see customer testimonials when the technology becomes more widely used.
Review summary
There are pros
Live trading results as well backtest stats can be accessed

Fair pricing
Cons
Unhealthy risk/reward ratio

Very high drawdown

User reviews are not available
This EA can be very lucrative, increasing your capital significantly. However, trading risk is much greater, making the system less vulnerable to losing. That's why it generates a poor risk/reward ratio. The lack of user reviews also denies us the chance of knowing how it behaves on traders' accounts.