PipFinite Breakout EDGE Indicator Review
PipFinite Breakout EDGE is an indicator that was published in the mql5 marketplace on January 9th of 2019. The author Karlo Wilson Vendiola runs the PipFinite website and has published 12 products on the website thus far. The indicator was recently updated to version 3.0 to make some compatibility improvements.
PipFinite Breakout EDGE Overview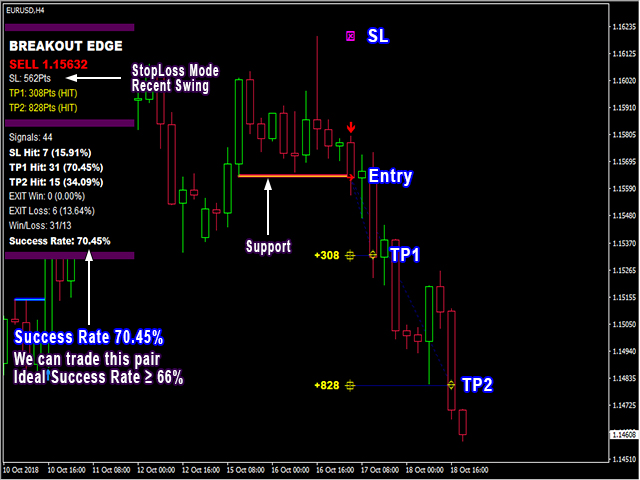 This indicator was designed to operate on MT4 and claims to follow a step-by-step system that identifies the most powerful breakouts. The strategy is supposedly tested and proven to discover market patterns that can yield impressive rewards for traders. The creator outlines three easy steps for placing a trade:
Enter a signal (the success rate must be equal to or more than 66%)

Set stop loss

Set take profit
The indicator then auto-detects entry, exit, stop loss, and take profit levels and auto-calculates statistics for each signal. It doesn't repaint or recalculate. It works with all timeframes and symbols and is designed to be compatible with all Expert Advisors. The automatic calculations for statistics results are one of the highlights, as it provides more reliable data that gives out a success rate for the trade, thus giving traders the confidence they may need to follow through. The indicator also comes with a user manual and the developer has included step-by-step instructions and a YouTube tutorial video to help explain the setup process.
Service Cost
The indicator is available in three different price options. The indicator can be purchased outright for $98 or rented for $58 USD per month or $88 for a year. Renting the indicator costs only $10 more per year than purchasing it, so it's worth buying if you plan to use it that long. This indicator is expensive, but it has enough positive feedback that it's worth the monthly cost. The indicator can only be activated 5 times. If you want to use it more than that, traders will need to purchase the software again.
Conclusion
PipFinite's Breakout Edge received multiple 5-star ratings from users who have made a profit with it. Here are a few examples of what customers are saying.
VERY GOOD INDICATOR!" "BROUGHT IN PROFITS!" -DISHENG91
I bought the indicator almost a month ago. Great results, no lag, no repaint. You did a great job !"-yarixsegona
This indicator is almost frighteningly good…I wondered if it was a fake indicator and that the reviews were paid…I wasn't paid for this and I tell you this indicator is a business! You will not regret investing the monthly fee for a month if you are as skeptical as I was. !"-mslightbourne
Almost all users who commented on this thread said that they were happy with their results. However, some mentioned that they combined the indicator with other indicators. This indicator can help you increase your profits if you have a successful trading strategy.