Xmaster Formula Indicator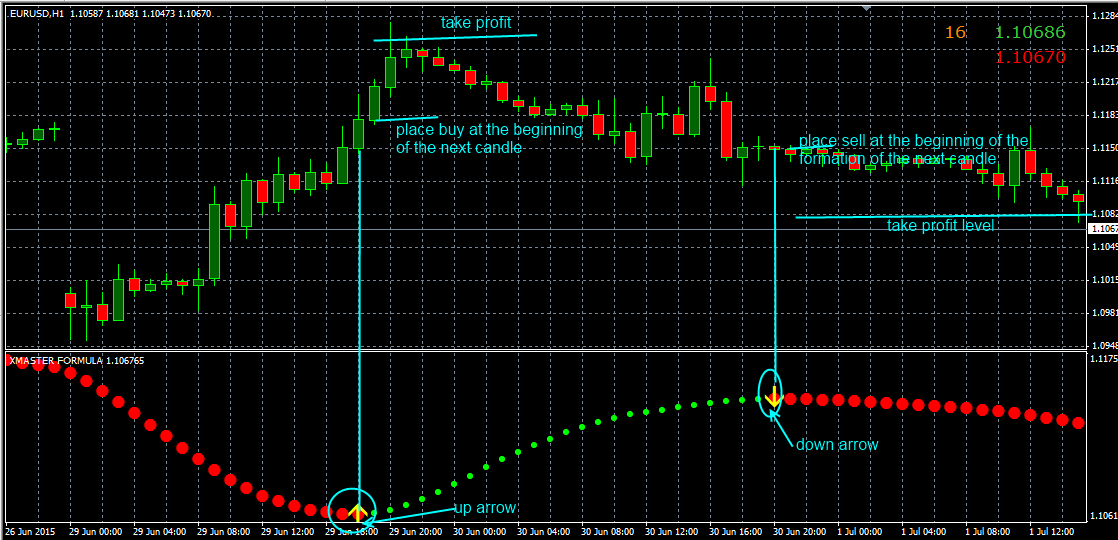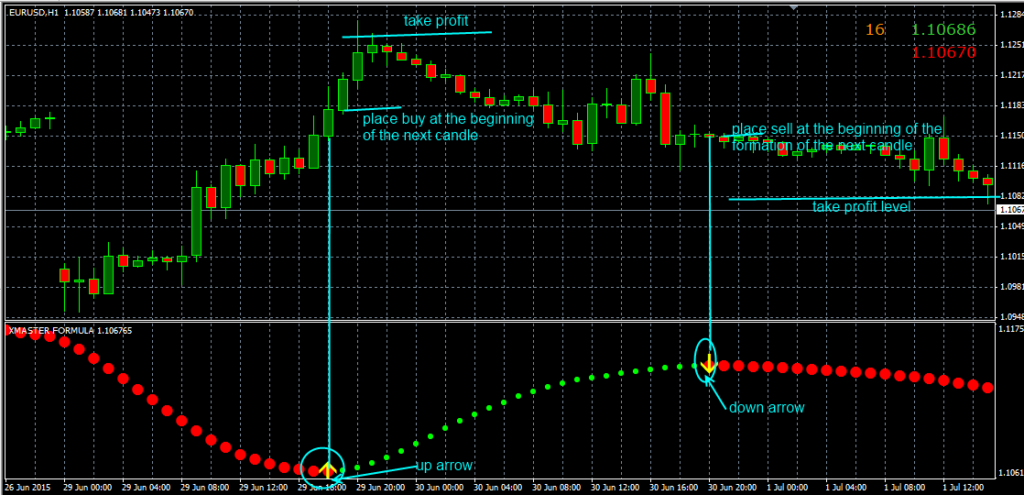 Xmaster Formula indicator for MT4 uses a sophisticated, combination of moving averages, RSI and MACD. its output is a clear buy/sell arrow trading signal, as well as a bull or bear trend indicator.
The indicator is ideal for advanced and new Forex technical traders using any trend following trading strategy. The indicator is compatible with all intraday charts and can also be used on daily, weekly and monthly charts. The indicator is easy to download and install.
Xmaster Formula Indicator for MT4 Trading Signals
The chart shows the Xmaster indicator for MT4 in action. In yellow, the indicator shows the buy/sell arrow signals. The bull and bear trends are in red. The indicator is located in a separate window below the price chart.
Forex traders can use this indicator to follow the trend and place buy trades when the yellow arrows form. The indicator should show only the small dots in LIME color. This forex technical trading strategy uses a stop loss below the previous low and the opposite exit signal.
The yellow downward arrow also indicates a possible bearish trend. Therefore, the forex trader should place a sell order. The signal must also contain red dots. This technical strategy allows you to place a stop loss above the swing high. The profit booking point is at the opposite trading signal arrow.
Forex traders should confirm their trading signals with the color of the arrow and the color of the dot. This will ensure the best possible outcome. Sometimes, these signals may not appear at the same time. In this case, the trader should wait until another signal appears.
MT4's Xmaster indicator can be used to track trends. It is best if the trader is able to trade within multiple time frames (mtf). Traders should follow the trend direction in the higher time frames and find the best entry points in the lower time frame charts.
Summary
MT4's Xmaster indicator can be used to track trends and provide excellent results for trend followers. With simple arrow trading signals, and color points, the indicator is easy to use for traders who want less clutter in their price charts. Forex traders should consider sell and buy arrow trading signals with established trend lines, support zones and resistance.