The Inside Bar indicator for MT4 scans the chart and plots the classic inside-bar candlestick chart pattern in the current chart. The indicator allows forex traders to trade the pattern. Inside bar trading is profitable because the stop loss is small in comparison to other strategies. Forex traders can also trade the inside bar pattern under bullish or bearish market conditions. But traders can confirm the pattern by using price action and then buy or sell.
The indicator is effective in all intraday frames, as well as the daily, weekly and monthly price charts. The indicator can be used by both new and experienced forex traders. New traders, however, must be able to understand the price action in order to confirm breakouts and trade accordingly. Advanced traders, on the other hand incorporate this pattern into complex trading strategies. Forex traders can also use the indicator to create automated trading strategies.
Inside Bar Indicator For MT4 Trading Signals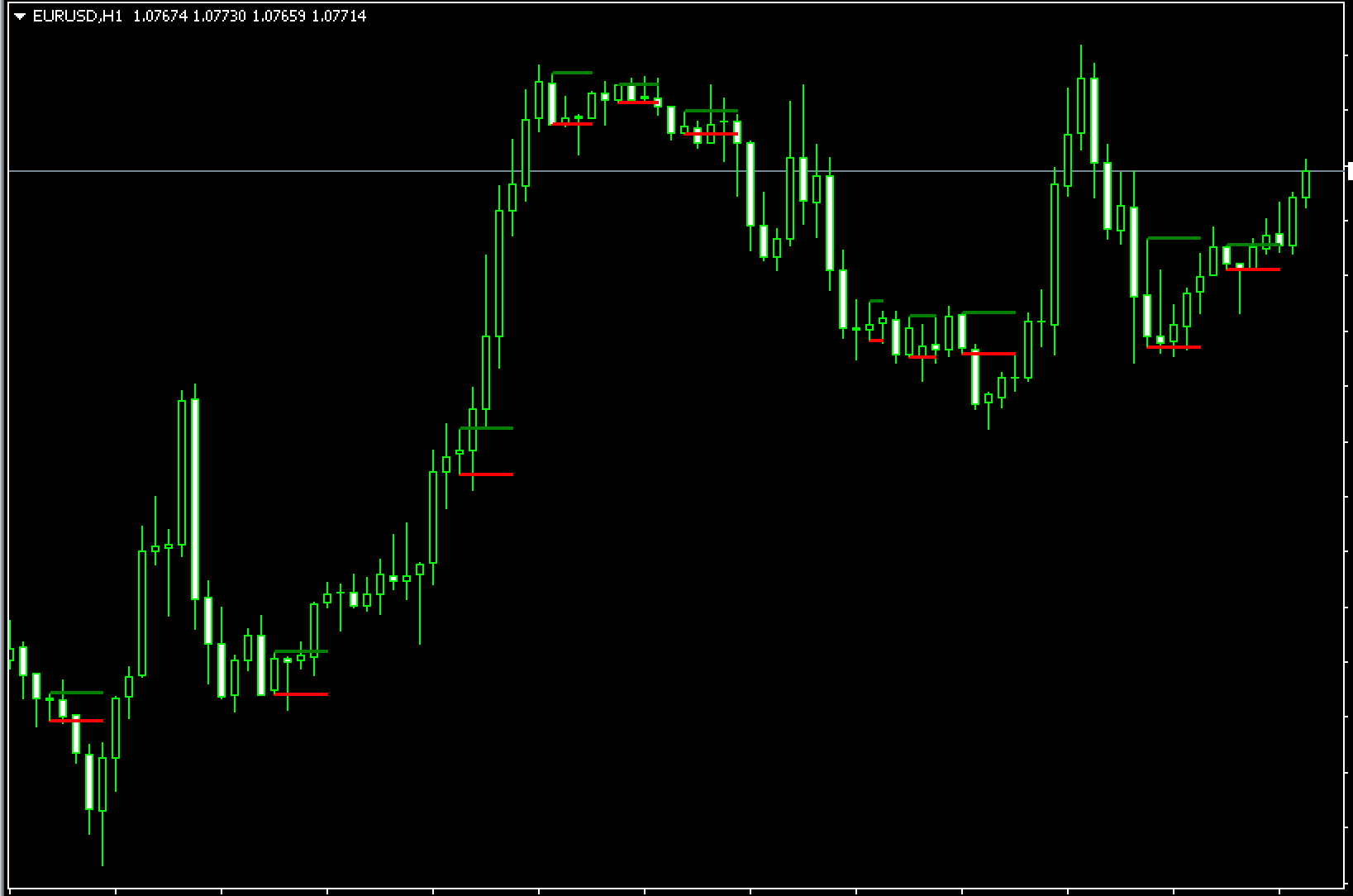 The indicator shows the maximum of the bar pattern inside in Green, and the minimum with a Red Line.
The pattern is made up of two candlesticks. This candlestick pattern involves the second candle being engulfed in the mother candle, which is the candle that preceded it. This pattern can be a continuation or reversal pattern. Trading as a continuation during a trend can produce better results than trading reversals.
The indicator will plot the pattern's high and low on the chart if the pattern is occurring during an upward trend. The next candle breaking to the high of a pattern indicates a Bullish trend. Forex traders should therefore enter the market by taking a BUY with a stop-loss below the low of pattern. The pattern does not give a projection of the take-profit. So. The traders should record profits when the risk-reward ratio is good.
If the pattern appears during a downward trend, the indicator will plot the high and the low of the pattern. If the next candle breaks through the low of the pattern it signals a Bearish trend. The traders should then place a sell trade with a Stop Loss above the pattern high. Traders need to exit the trade with a favorable risk-reward balance.
It is crucial to identify the direction of the trend by examining the direction of the breakout. Traders should confirm breakout direction using price action for a profitable result.
The conclusion of the article is:
Inside bar indicator is a scanner for candlestick patterns. The pattern can be traded in bullish or bearish markets, but only after confirmation with price action. New forex traders should familiarize themselves first with price action. Traders can also download and install the indicator easily.