Description
TrendViper indicator without redrawing is used for technical analysis of any Forex pair, futures or cryptocurrencies available in the MetaTrader 4 terminal. It was written by professionals to detect trending markets and signal possible trend reversals.
Intelligent Trend Indicator will completely remove worries about when, how, and why you should open your position.
Every trade will be following higher timeframe trends, and you will be able to spot winning trade trough our intelligent features.
Repainting (lagging), meaning that indicator changes display on the chart, as new price data (candles/bars) comes in.
Always wait candle close before entering the trade.
Hopes that is clear.
INTELLIGENT CHARTING ANALYSIS
System will give you intelligent charting view, which will boost your confidence together with your accuracy.
You will be amazingly surprised how smart our indicator read charts through multiple timeframe.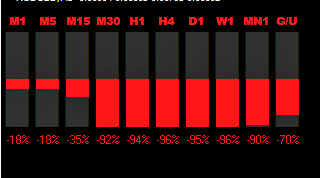 INTELLIGENT CANDLE PRESSURE
The Candle Pressure technology will show you live market pressure on last candle in multiple timeframes.
If the current bar is a positive bar, it will be green, if it is a negative bar, it will be red, and the larger the bar, the higher the value of the meter.
We use it to see the current momentum of the bar when entering.

INTELLIGENT TREND DASHBOARD
The trend is our friend.
While using our trend dashboard, you will see trend directions in multiple timeframes.
Before we look for the entry point, dashboard should be 90% in one trend direction.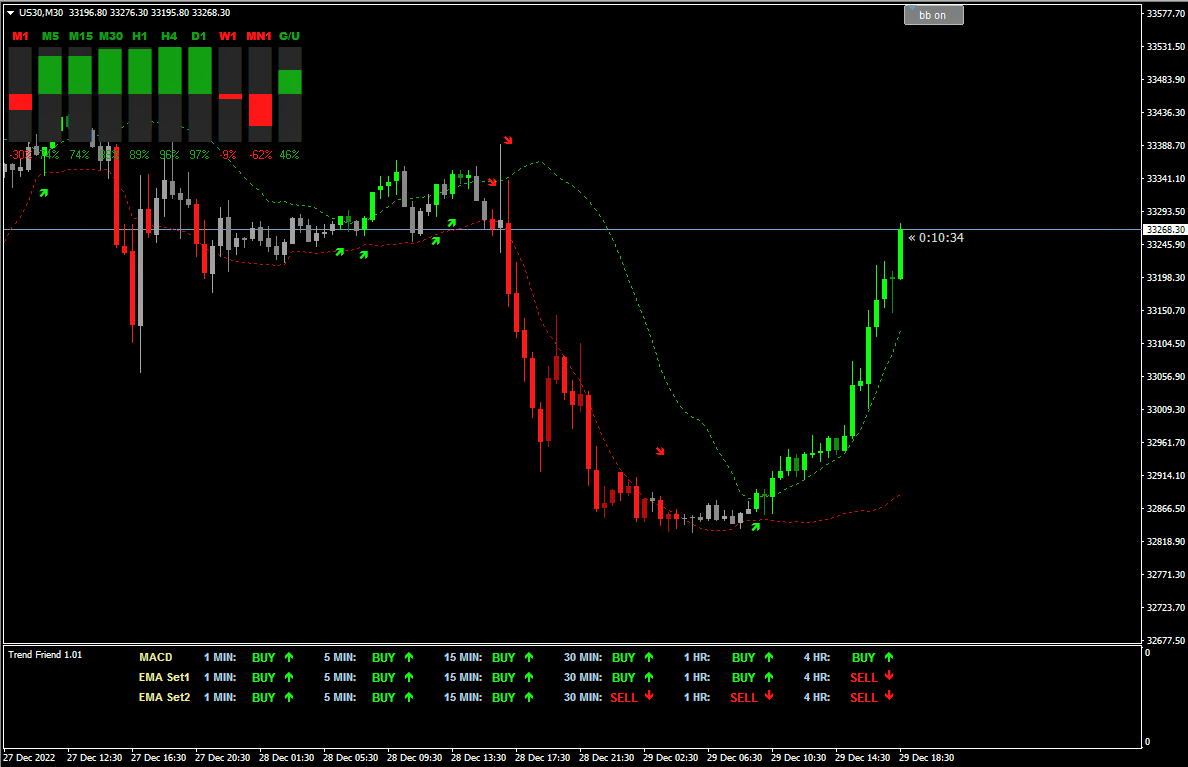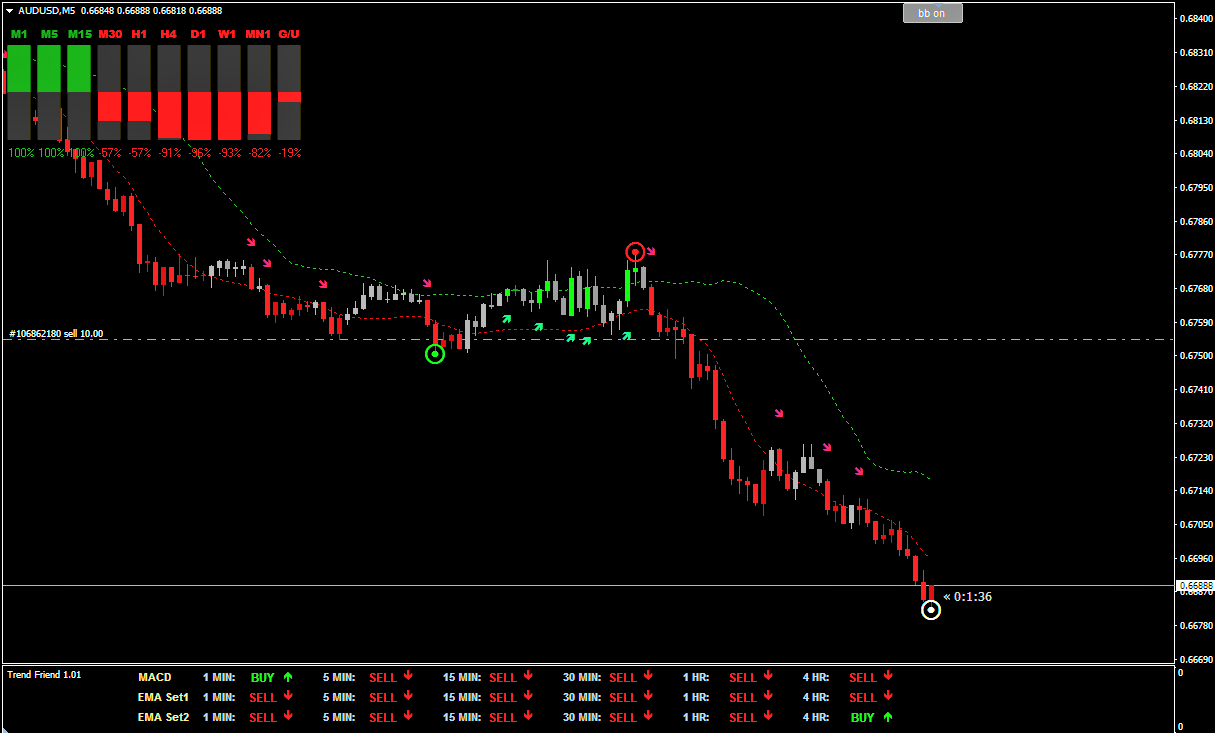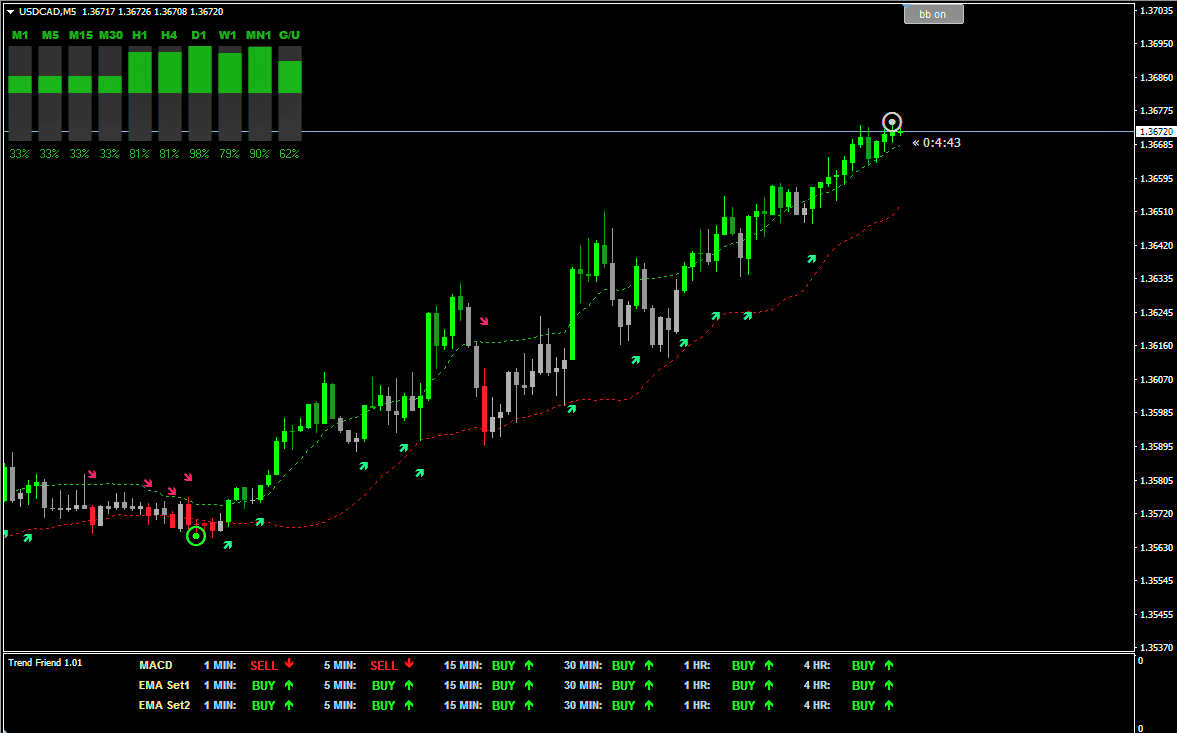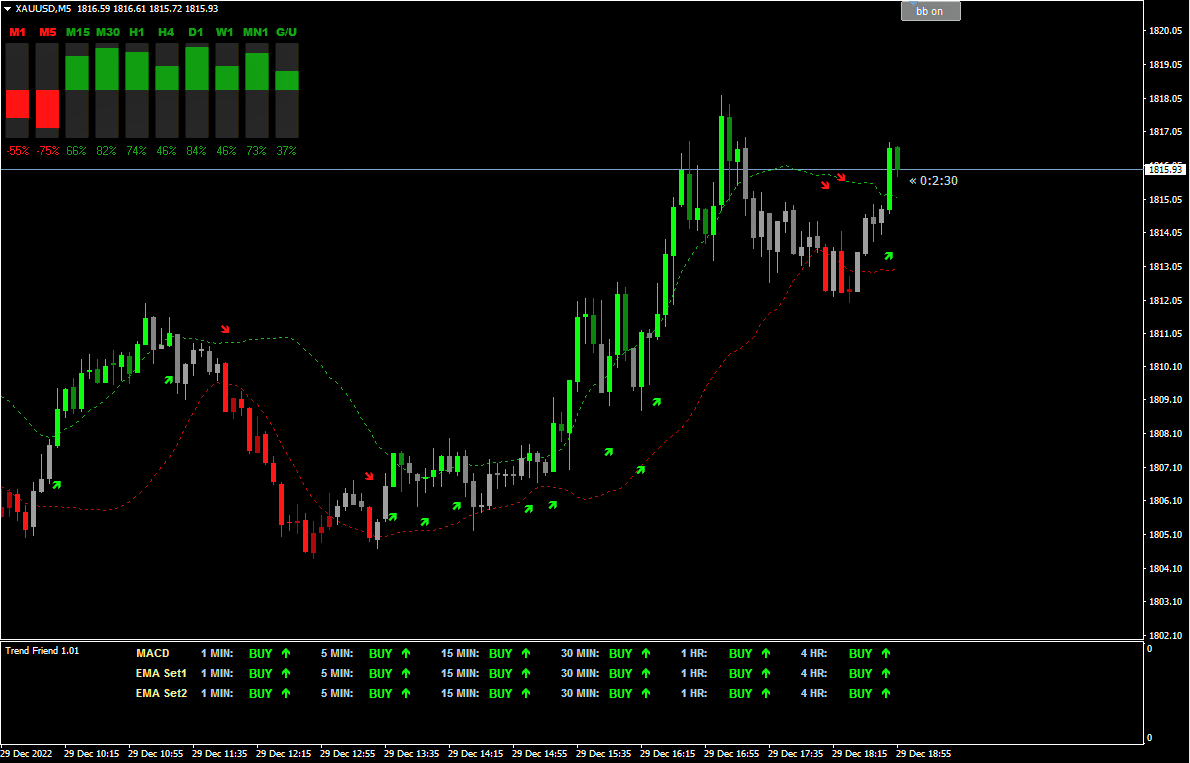 Follow the trend
In Forex trading, large sums of money are usually earned by following a larger trend. There is a famous saying "follow the trend, my friend". But let's face it, detecting and following trending markets is a real challenge for most traders. That's why we created this no-replot trend indicator. This technical indicator is designed and built for optimal speed and functionality.
Trend Indicator running on multiple charts
Our trend indicator will help you detect trends in MetaTrader by providing an easy-to-understand overview of price movements. Smoothes out price behavior and helps eliminate market noise.
It will analyze market data in real time and detect and highlight current trends. It will also generate free up or down signals for each detected trend change.
Free Alert Signals
With a screenshot of the signal's pop-up window, you will no longer need to stare at your monitor screen for hours waiting for a favorable setup.
The indicator will generate free up/down arrows and signals to alert you of potentially great opportunities in the market.
After installing and running the TrendViper indicator, you will be able to receive free trade alerts continuously without paying any subscription fees.
The up and down arrows are displayed on the chart and each signal also generates a pop-up window with an audible alert (as shown in the picture). Signals can also be sent to email or mobile devices.