It is the TRIX indicator used by Metatrader 4 is a filter that detects small price movements and fluctuations, which are secondary to forex trading. the TRIX indicator on MT4 provides the most effective trading signals through the use of arrows. In addition, it indicates the presence of overbought or oversold conditions, as the indicator acts as an oscillator. In addition, the divergence between the value of the indicator and the price signals the possibility of reversal and it is the most reliable indicator for index and technical forex traders. this indicator used by MT4 is based on smoothed exponential moving averages. It is widely used by index and forex traders to develop the most effective trading strategies.
TRIX Indicator Trading Signals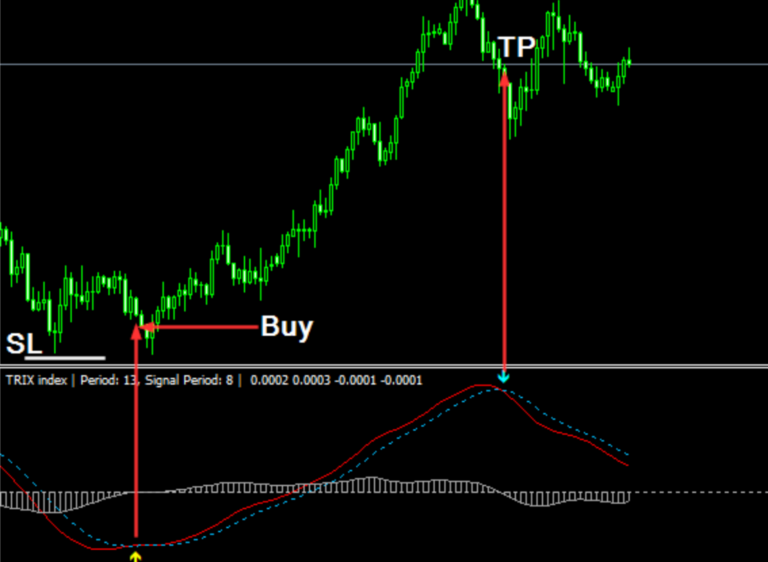 The oscillator appears in a separate indicator window and shows trading signals in the form of arrows in the indicator window. the TRIX indicator shows buy signals with yellow arrows, while sell signals are shown with blue arrows.
It is TRIX (Triple Exponential Moving Average) is a momentum-based oscillator that uses smoothed exponential moving averages to calculate trading signals. Traders can buy when they see a yellow arrow and leave the position on another signal. Conversely, a trader can sell when an aqua blue arrow appears. The trader is able to hold the position and then exit when the opposite signal appears.
Because it is an oscillator, traders in the Forex market can use it to spot overbought or oversold situations. the TRIX indicator functions as a leading indicator because it shows divergence. Any difference in the direction of price and the indicator may indicate a possible price reversal. If the price is moving upward and the indicator is moving in the opposite direction. In this case, a reversal is possible and Forex traders are able to develop a trading strategy to match it.
Traders can combine TRIX with TEMA to get better results. metatrader displays TEMA in the charting window and TRIX in the indicator window. both TRIX and TEMA are built on smoothed exponential moving averages and can complement each other.
Forex novices will find TRIX very useful as it provides trading signals as well as information on overbought and oversold, and divergences. Expert traders can mix this indicator with other indicators to make it the most effective trading technique for them.
Conclusion
The TRIX indicator for Metatrader 4 is an excellent indicator to cut through the noise in forex trading. In index and forex trading, the main causes of losses are whipsaws and unintentional market movements. However, combining TRIX with TEMA to form a technical trading strategy provides more reliable signals for traders in indices and forex because they use exponential moving averages.