Pattern Recognition Master Indicator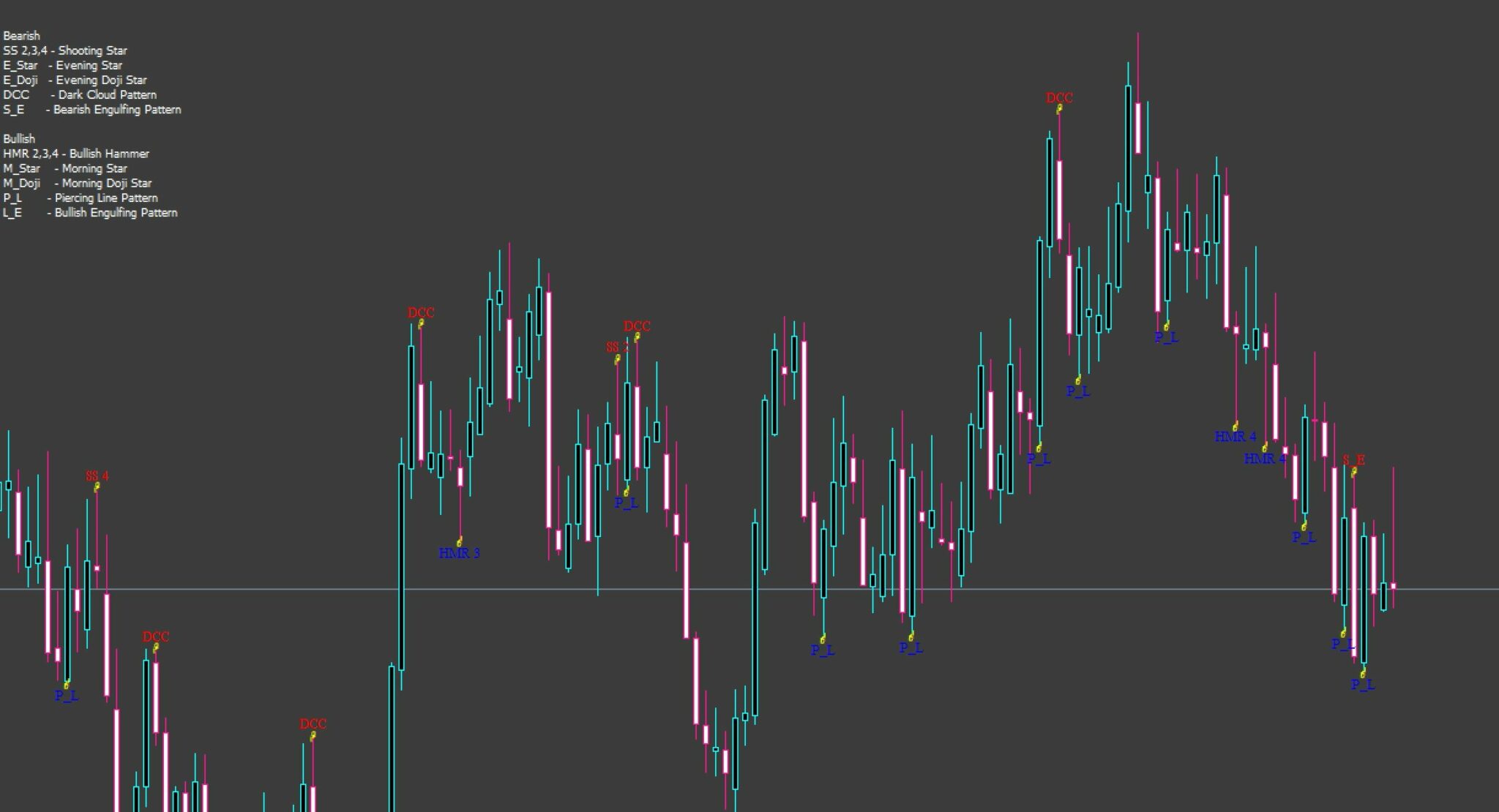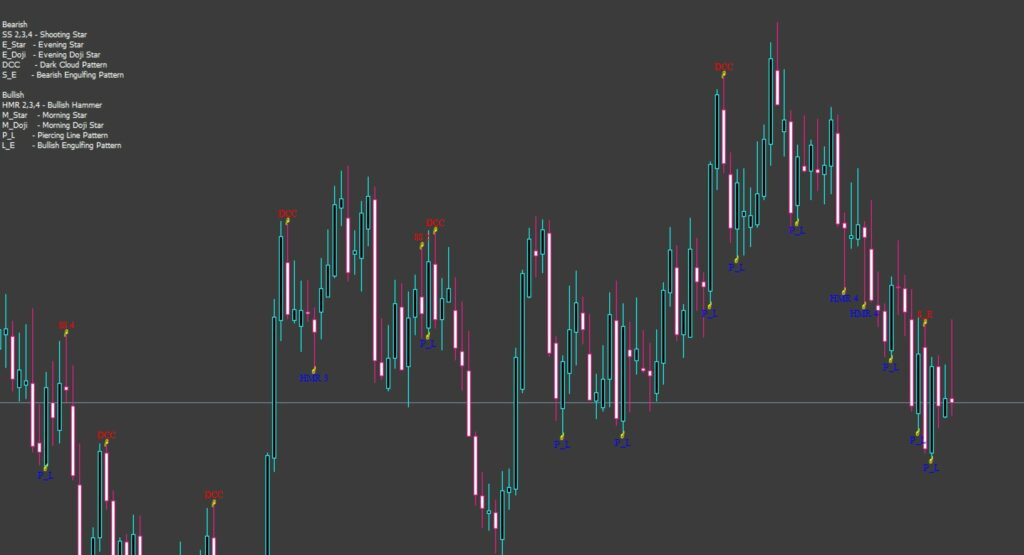 There are many different candlestick forms used in Forex. It is easy to recognize these patterns in books and theory. However, they are not always perfect when you look at live forex charts. It would be nice if there was an indicator to help identify candlestick patterns on live charts. There is. It is it the Pattern Recognition Master Indicator.
Pattern Recognition Master Indicator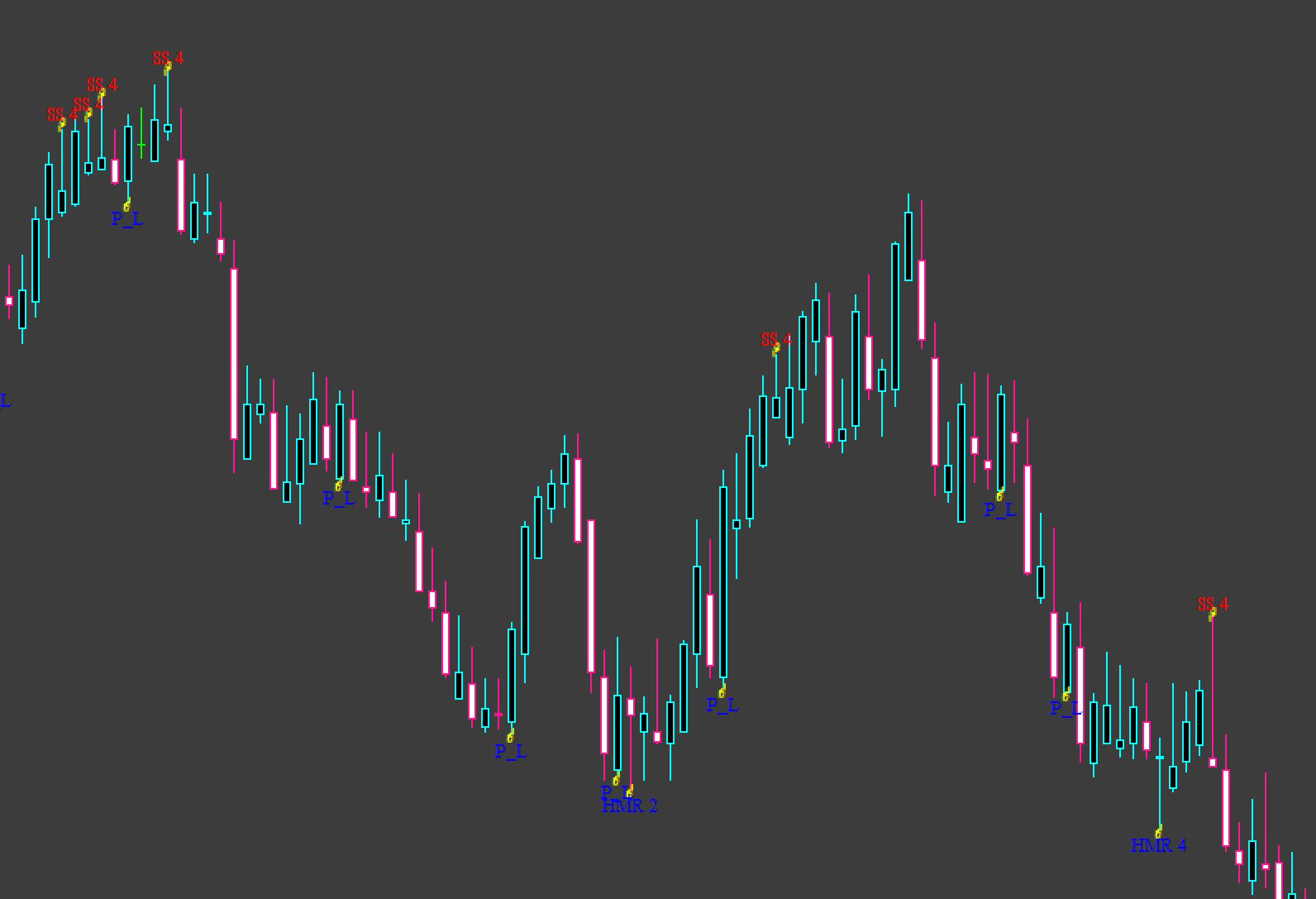 The Pattern Recognition Master Indicator simply shows you the candlestick patterns that are displayed on your charts in real time. It shows the details by putting some characters on the appearance of the new candlestick pattern. In the upper left corner of the chart there is an indicator that explains the meaning of each letter. For example, S_E stands for a bearish engulfing candlestick pattern on the indicator, while L_E refers to a bullish engulfing pattern.
"SS 2" means a shooting star whose upper wick is > 2 x the length of the lower wick
"SS 3" means a shooting star whose upper wick is > 3 x the length of the lower wick
"SS 4" means a shooting star whose upper wick is > 4 x the length of the lower wick
What is the best way to use the indicator?
The main indicator of pattern recognition illustrates candles on Forex charts. Therefore, the most effective way to use the indicator is to learn how to apply the candlestick pattern alone in the Forex market.
It is also important that traders do not apply this indicator on its own. Instead, they should use it in combination with other Forex market structures and indicators to gain an understanding of the currency pair's direction. For example, a hammer candlestick, which is usually a sign of an uptrend, may appear in a downtrend. When you buy a contract in an economic downtrend, the risk is high because you are trading against the market trend.
To enter an investment after a bullish engulfing candlestick, the trader must first make sure that it is in an uptrend. For a good scenario, additional tools used in forex trading such as indicators and market structures such as support and resistance must be used to validate the trade. However, this is not the norm in the forex market, which is why you must follow your own trading rules for trading.
Who do you think this Master Pattern Identifier indicator is best for?
Anyone who trades using Forex candlesticks will probably appreciate the benefits of having a pattern recognition indicator. The beauty of candles in forex trading is that anyone can trade them, regardless of what trading style they use or what time frame they choose. By extension, anyone who trades forex can trade forex using candlestick patterns.
There is also another version, please see the chart below.