Three White Soldiers Candlestick: A Trader's Guide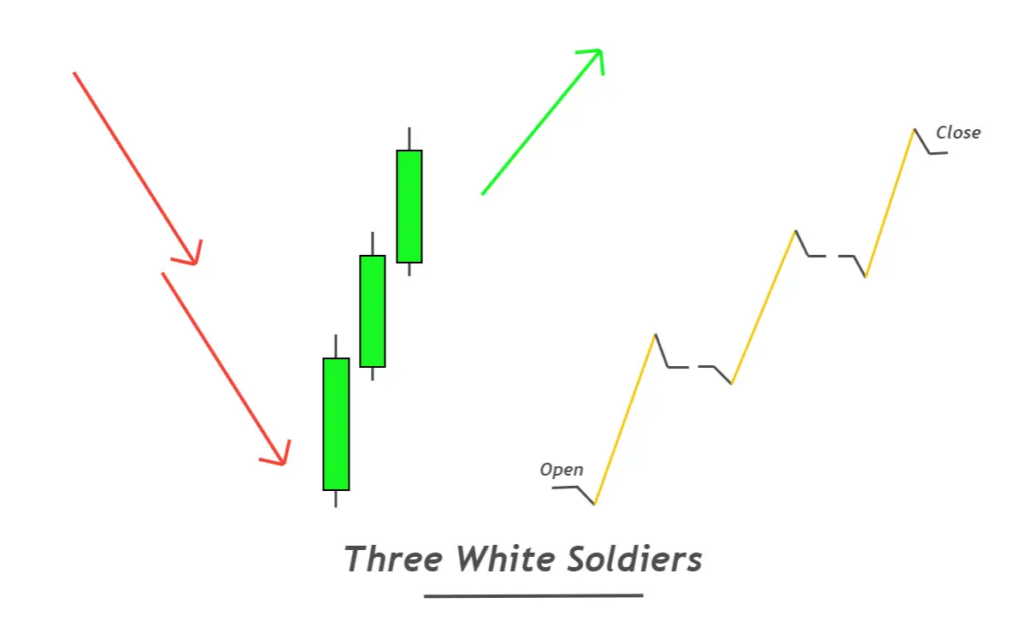 Three White Soldiers is a candlestick pattern used to reverse a bullish market trend. It consists of 3 bullish candlesticks that make higher highs and higher lows. These candlesticks are formed in series, with small wicks. They represent a huge momentum of sellers.
The best candlestick patterns to use for higher timeframe analyses are those that detect price trend reversals in lower timeframes. The three-black-crows candlestick is opposite the three-white soldiers' pattern.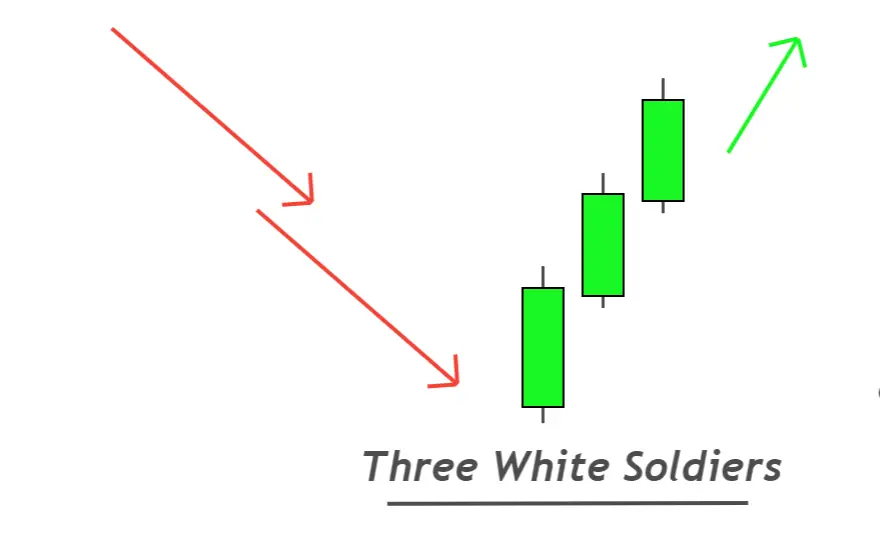 How can you identify three white soldiers' candlesticks?
Follow a few rules to get a good candlestick chart. To avoid false candlestick patterns, you must follow the rules.
Please follow the rules below
Three bullish candlesticks must form in a series on the chart. These should show higher highs and higher lows. This confirms that the price trend is bullish.
The ratio of body to wick for each candlestick must be greater than 60%. These three candles should have small shadows/wicks to represent the market's huge momentum of buyers.
It is a pattern that reverses a downward trend into a positive one.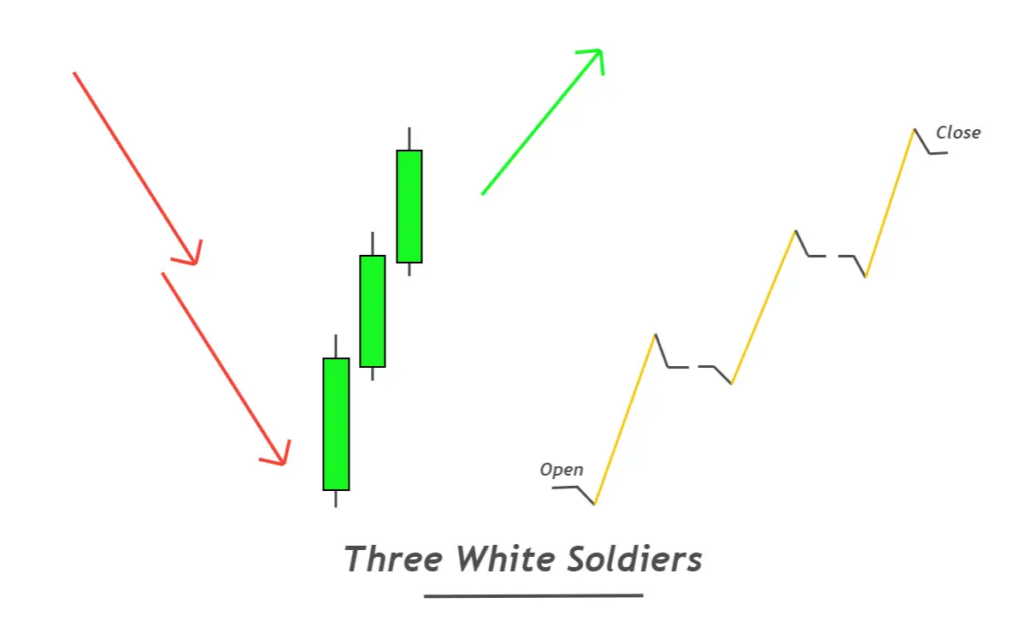 Pro tip: The time and size of each candlestick in an ideal pattern with three white soldiers will be the same.
Three White Soldiers: Information Table
| | Explanation |
| --- | --- |
| Number of Candlesticks | 3 |
| Prediction | Bullish trend reversal |
| Prior Trend | Bearish trend |
| Counter Pattern | Three black crows |
What do the three white soldier's candlesticks say to traders?
This pattern is a sign that a bullish trend will soon begin. This candlestick pattern has a logical explanation.
Let's read the price…
The body represents the buying or selling momentum. The large body of bullish candles shows that buyers have control over the market.
The market is dominated by buyers and sellers. The price will rise if buyers are stronger than sellers.
When three large bullish candles appear in a line, this means that the price has increased in three sessions in a consecutive manner and the sellers have not been able to lower the price.
This is why, when the three-white soldier's pattern appears at the bottom of a chart, the sellers are completely out of momentum, and the buyers are ready to begin a bullish movement. This is why this candlestick pattern exists.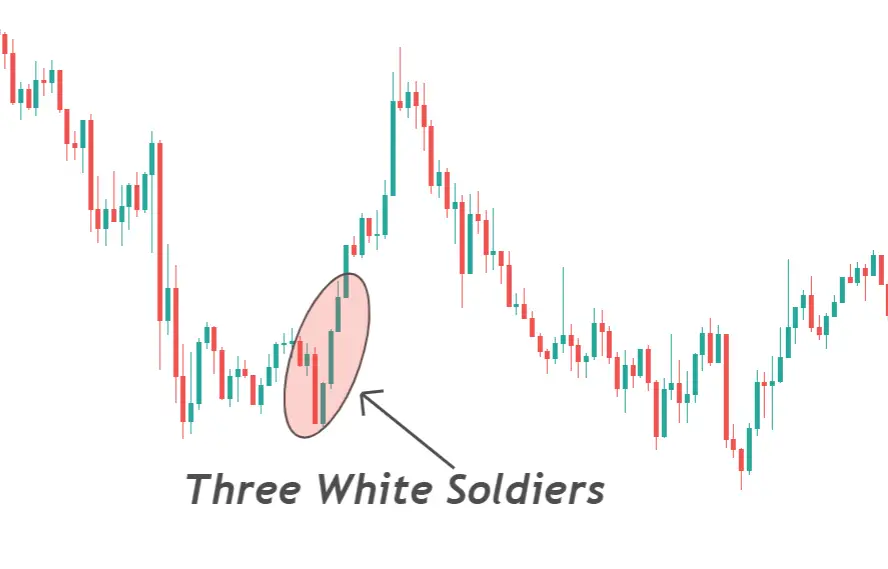 ---
The best working conditions for the three white soldier pattern
Confluences are needed to separate the ideal candlestick pattern from the rest of the chart. Confluences are a way to increase the likelihood that a price pattern will occur. You won't trade every candlestick pattern in this technique. You'll only trade refined patterns that comply with specific rules.
You can also use your confluences. Confluences can be used to create new confluences.
The candlestick pattern of white soldiers should appear at the demand or support zone
This pattern should not be traded in choppy or sideways markets.
This pattern can be used when there is an oversold condition, i.e. RSI falls below 30.
Higher timeframe candlestick trading strategy
It is not recommended that you trade this candlestick only due to some limitations. I have developed a trading strategy that will allow me to trade this candlestick pattern.
This strategy is based upon a longer timeframe.
Look for the candlestick pattern of three white soldiers in a higher timeframe such as 4H, daily, or weekly.
Once you have identified the pattern, move to a smaller timeframe (such as 15M) and then use your strategy in a bullish direction. Only open-buy trades that have high risk-reward ratios.
You can use any strategy you want (RSI, MACD, MACD, etc.). Any strategy (RSI, Mas, MACD, etc.) can be used but the winning rate will increase.
Bottom Line
Due to strict conditions, it is rare for three white soldiers' candlesticks patterns to form. You will find this pattern less often on higher timeframes. It is therefore recommended that you increase the number of currencies and stocks in order to have several trade setups within a month.
This candlestick pattern must be backtested at least 75 times in order to master it.