Entry Points Pro indicator Review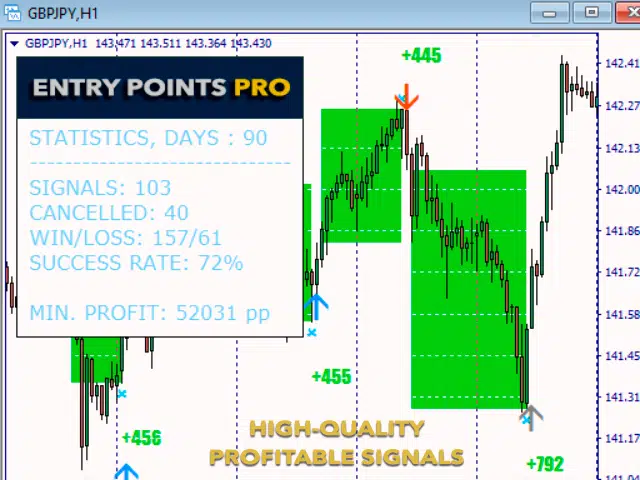 In this article, I will review the Forex Entry Points Pro Indicator. As the name suggests, it is a forex tool that shows optional entry opportunities in your MetaTrader 4 charts. The indicator comes with a template that allows you to apply the built-in indicators on your selected chart symbols and timeframes. You can adjust the settings to suit your needs or use them as defaults. I would practice this strategy on a demo forex account and then only use it as an additional indicator to my market analysis.
Forex Entry Points Pro-Indicator Strategy
The Forex Entry Points Pro Indicator analyzes the price behavior on the chart each second and determines entry points using the built-in algorithms, which are a combination trend trading and price movement. While I believe it is good to trade the overall trend because it allows you to catch large moves, it can also be difficult to capture the beginning of a trend. You may even find yourself being whipped in and out of market if not careful.
Forex Entry Points Pro can send you alerts whenever there is a sign, so you do not need to spend all day studying charts and analysing the markets in search of potential setups. You can follow as many currencies pairs and chart timeframes simultaneously as you like. You can decide whether you want to trade or wait for the next signal when the Forex Entry Points Pro Indicator finds a setup that matches the trading strategy.
It may seem like an ideal solution for those who have no experience in trading online or do not have time to learn the best way to trade. This does not mean all signals will be good. The Forex Entry Points Pro Indicator, I believe, will perform much better if combined with fundamental analyses, price analysis and technical analyses. I wouldn't take any trades without my own confirmation.
Also, you need to consider your forex financial management. You could use the Forex Entry Points pro Indicator for both exit and entry, but that may not be in line with your risk-reward ratio. To maintain greater control, you can set your stop loss and take-profit levels. I only take trades with a favorable risk-reward ratio, where a bad trade doesn't cancel out a streak of winning trades. I would use a trailing loss to maximize each trade and lock in good trades at break-even.
The Forex Entry Points pro Indicator can be used on any financial instruments that you choose, such as forex, cryptocurrencies, stocks, indices or metals. It can be used on any timeframe, whether you are looking to trade the markets or daytrade.
The developer states that the indicator is best used on 15-minute charts or higher. The 1-hour charts are slightly better for me, because they filter out more noise than the lower timeframes.
Forex Entry Points Pro does not repaint. The Forex Entry Points Pro strategy does not repaint. The forex strategies may look great on historical data, but they could have completely different signals in real-time.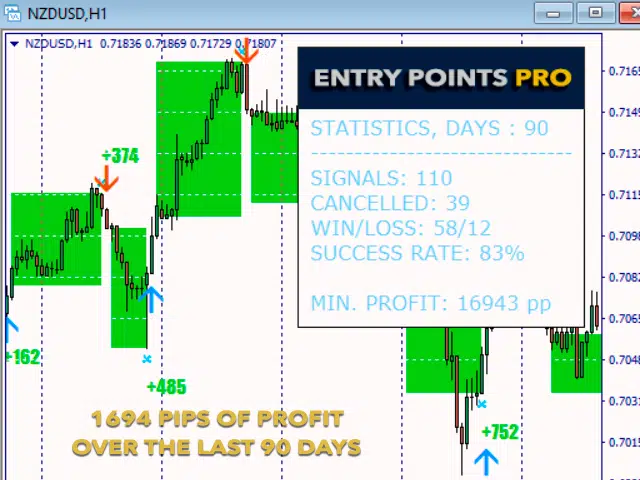 The Forex Entry Points Pro-Indicator features
Entry signals without repainting

Opening trades without errors

Entry Points Pro can be used with any asset

Trend filter provides signals in any direction.

Statistics and analytics in detail

It doesn't affect the functionality of the terminal

Chart timeframes can be chosen at will

Multi-language support

Push messages, visual and audio alerts to your mobile

Includes detailed instructions for beginners and experts
The Forex Entry Points Pro-Indicator Summary
I believe that Forex Entry Points Pro Indicator is a simple and versatile trading strategy. However, it requires some experience from the user. It is because I believe there will be a lot of false signals if you don't do some additional market research to filter the trades. You will also need to ensure that you have a good forex trading strategy and maintain your forex trader psychology and discipline.
To use the Forex Entry Points Pro Indicator you need to have a trading account at a forex broker. It can be difficult to select the right forex broker when there are so many to choose from. Please browse my top forex brokers to get some inspiration if you're new to online forex trading.
IC Markets is my preferred forex broker when it comes to automated and manual trading strategies. It is because they have low commissions fees, tight spreads and plenty of liquidity. This means you can always get the best prices on the forex market. They also have excellent customer service and a variety of account funding options.
Overall, the Forex Entry Points pro Indicator has some potential but is not that different from something you could create yourself using the free default trading indicators included within the MT4 Platform. You can try it on a demo account first to see if you like the way everything is packaged for you.