Milanese's MT4 Market Information provides important market information about current chart symbols. The indicator provides information on the spreads of currency pairs. The information panel also includes daily highs, lows and candle timers, which are useful for intraday forex traders. Traders can also use the high and low levels to help them focus on calculating technical strategies using high and low entry levels.
Traders using arbitrage will benefit from the exchange of short and long positions in charted currency pairs. The indicator shows the distance between the current price and the moving average of the preset value. Indicator settings allow traders to enter their own values for the calculation of moving averages. The indicator is also available for free download.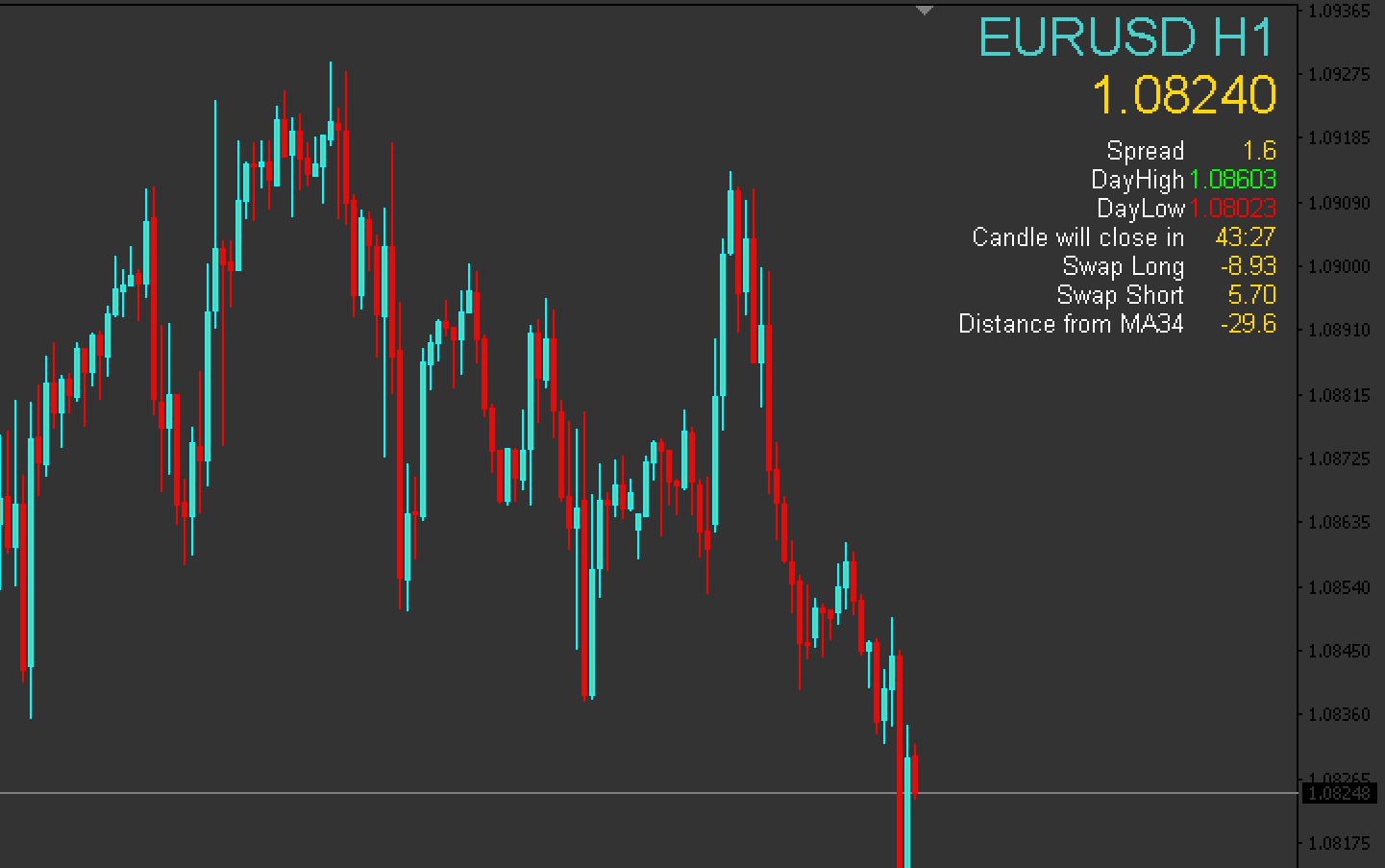 The indicator is applicable to all time frames of intraday charts. It helps intraday traders and scalers. The indicator can be applied to long-term charts, such as weekly, monthly and daily price charts. It will help swing traders and long term forex traders.
The chart shows the currency pair in medium turquoise. Comments are white, spreads, profits and losses are gold. Price increases are in cyan and price decreases are in red.
The indicator allows Forex traders to use moving average values to determine bullish or bearish market trends. The indicator can also display moving averages for any longer time frame on the current chart. This allows traders to use any custom defined values and longer time frame moving averages to identify prices.
The market information display also shows high and low values. If the price breaks above the current high, the forex trader can place a buy order. This indicates a bullish trend in the market. If the price breaks below the low, the trader can enter a sell trade to indicate a bearish trend.
Conclusion
MT4's Milan Market Indicator provides you with all the market information about the chart symbol in a compact format. The indicator panel is displayed with minimal distractions and provides the necessary information.